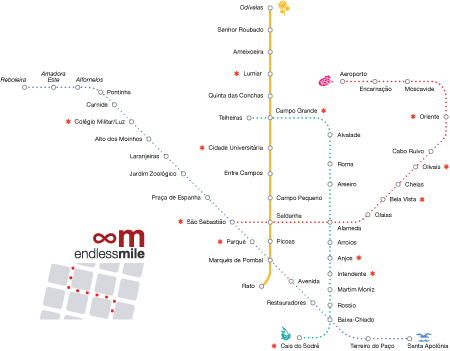 Got your pass ready?
Let's continue our exploration of the Metro in the city center. Maybe check out the end of the aqueduct nearby or first have lunch at the fabulous, non-touristy Cervejaria Real Fábrica? Your choice. A sunflower symbolizes the yellow line, at one time alternatively named the Linha Girassol. Not many tourist sites are near this route —with the exception of the worthwhile Museu da Cidade in Campo Grande— so cars are more filled with locals & university students. Linha amarela station names are in bold below, followed by the tile artist & year of installation. Red asterisks (✱) mark my three recommendations for this line. If a station contains more than one artist, all are shown. And remember that a complete list of Metro stations, respective artists & exact locations forms part of the Endless Mile guide Lisbon: Azulejos. Vamos embora!
---
Rato · Manuel Cargaleiro, 1997
Cargaleiro's second Metro station, executed nine years after Colégio Militar/Luz on the blue line, consists of individual tiles in relief with circle, square or diamond shapes. 3-D tiles were done in pure green or white, but a few hand-painted tiles can also be found.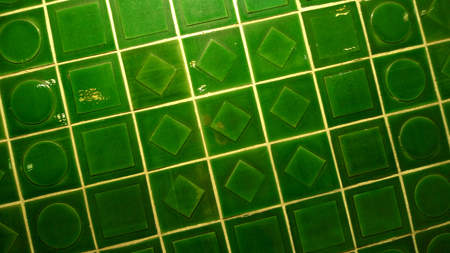 Rato · Arpad Szènés, 1997
Born in Hungary, Szènés married Maria Vieira da Silva in 1930. The couple explored Latin America during World War 2 while maintaining ties with Lisbon. This 1948 panel titled "Banquet" sits opposite his wife's work at the other end of the station (see below).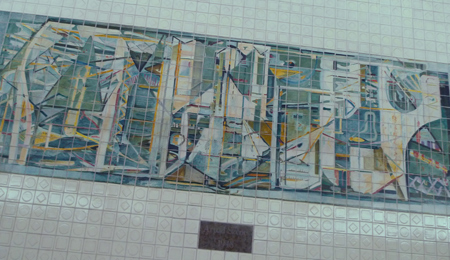 Rato · Maria Vieira da Silva, 1997
More of her work can be found in the recommended Cidade Universitária station on this line, & Vieira da Silva donated this 1970 abstract panel titled "Ville en Extension".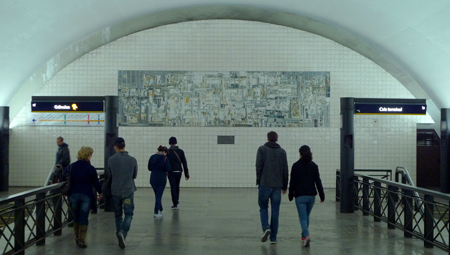 ●
●
●
Marquês de Pombal · Menez, 1995
The station takes its name from the roundabout above ground & a giant monument to Lisbon's urban planner after the 1755 earthquake. Several scenes from the life of the Marquês de Pombal decorate the station along with the city's violent destruction.

●
●
●
Picoas · Maria Keil, 1959
Pointed ovals vary in size & color to guide users through the station.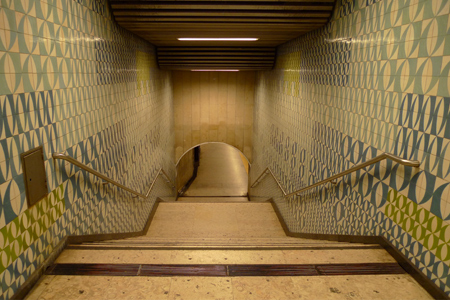 Picoas · Martins Correia, 1994
Images of the working women of Lisbon —like the varinas or fisherwomen that once populated the riverfront downtown— decorate the station with an interesting, earth-tone palette.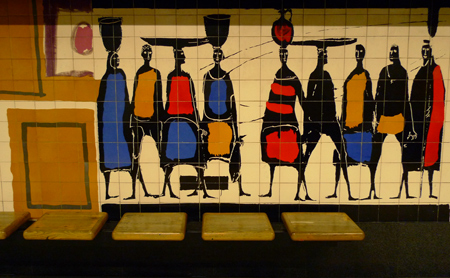 ●
●
●
Saldanha · Luís Felipe de Abreu, 2009
As often happens with Lisbon's Metro, expansion of a line means new station art. Saldanha grew to intersect with the red line & almost doubled in size. The artist expanded his previous work in the same station to encompass earthly elements, seasons & basic human experiences. "The Universal Characteristics of Man" highlights Abreu's eternal style.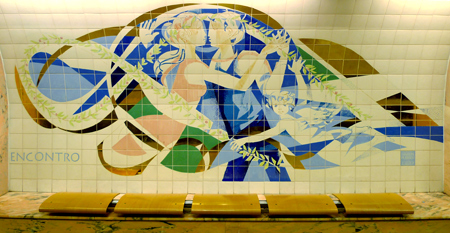 ●
●
●
Campo Pequeno· Maria Keil, 1959
A great example of how to do a lot with very little. Each tile has been divided into six sections by five diagonal lines. Some sections get color, others a light-blue background, & diamonds appear everywhere.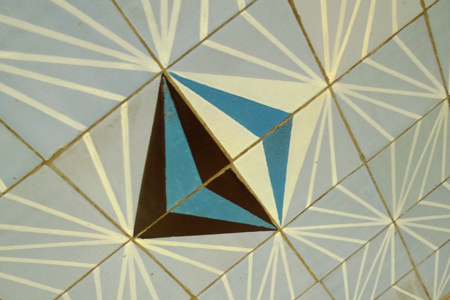 ●
●
●
Entre Campos · Maria Keil, 1959
Another personal favorite by Maria Keil, mainly for its rich colors but also for its geometric designs. I hope this series of posts shows how talented Keil truly was.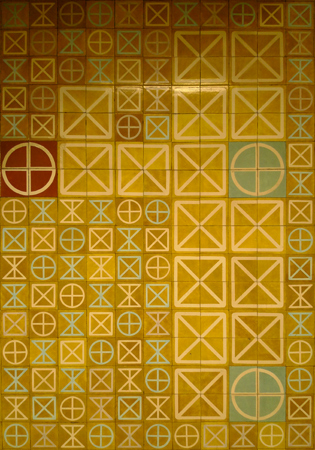 ●
●
●
✱ Cidade Universitária · Maria Vieira da Silva, 1988
There's a lot going on at this station, so hop out & stroll around to see it all. Philosophical quotes, lines from Portuguese classics, an owl representing Athena & many other abstract designs decorate the station serving the main university campus.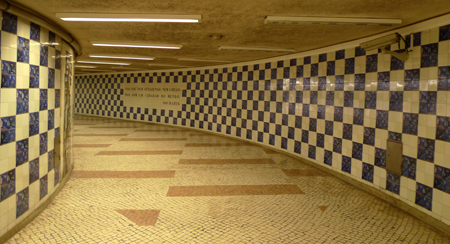 ●
●
●
✱ Campo Grande · Eduardo Nery, 1993
Nery knew how to create motion by breaking up figures, inserting color where least expected & being playful. In this station, he deconstructs the figura de convite, a trend from the late 18th century where life-size figures were placed at entrances to greet guests.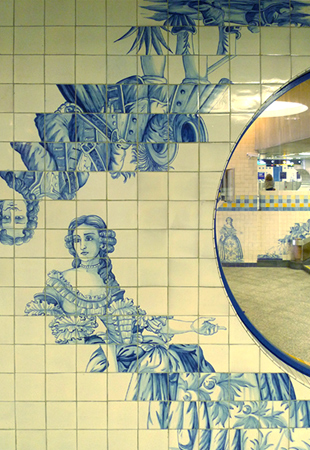 ●
●
●
Quinta das Conchas · Joana Rosa, 2004
"Scribbling and Doodling" places various notes & sketches on public display. Most come with an explication translated into English, so it's fun to read the interactions. A couple of favorites: the unidentifiable UFO & a countryside paradise drawn by a bored representative while in parliament.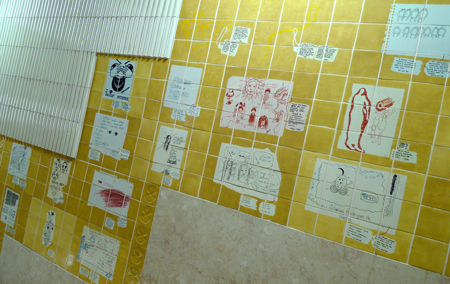 ●
●
●
✱ Lumiar · Lima & Rebelo Moutinho, 2004
Recommended because you step inside a brightly colored Matrix. 3-D tiles imprinted with circuitry hide interesting phrases like, "para onde vais?"… where are you going?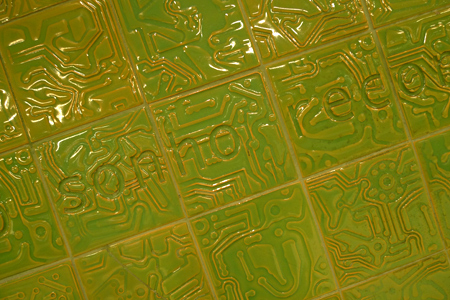 ●
●
●
Ameixoeira · Irene Buarque, 2004
Giant spheres & cubes decorate this massive station with an interesting use of space.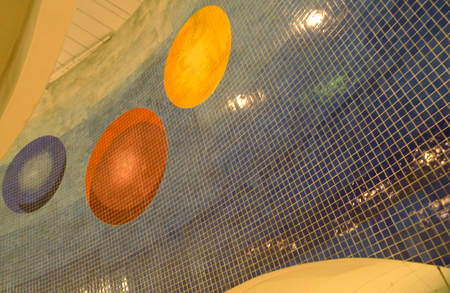 ●
●
●
Senior Roubado · José Pedro Croft, 2004
Lines & dots break the monotony of an otherwise ultra-white station.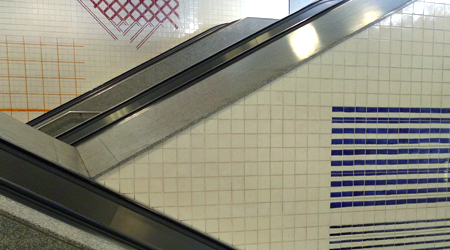 Remember that this last station is outside of the 24-hour pass zone. You can go there, but the card will not allow you to exit. Just cross to the opposite platform & head back into town after you're done.
●
●
●
Odivelas · Álvaro Lapa, 2004
Symbolic, abstract animal representations named for the reverse of its content: Lâmina ("animal" spelled backwards). I'm not really convinced about this one 😉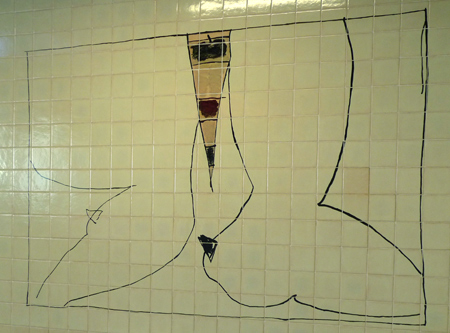 ---
Lisbon Metro, tile series: Basics • Linha verde • Linha azul • Linha amarela • Linha vermelho