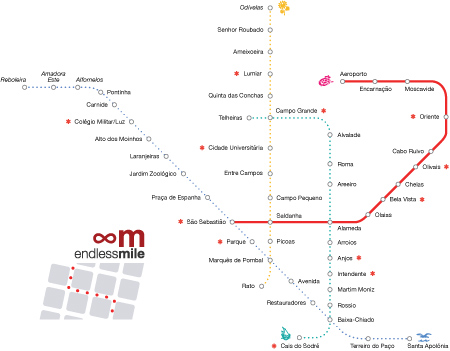 Got your pass ready?
Let's continue our exploration of the Metro in the heart of the city. This was the first completely new line added to the existing Metro system, completed in 1998 to whisk visitors to & from the World Expo. A compass pointing east symbolizes the red line, at one time alternatively named the Linha do Oriente. The original section of the line —Alameda to Oriente— has been extended in both directions, & is an easy way to get from the airport to the city center. Linha vermelho station names are in bold below, followed by the tile artist & year of installation. Red asterisks (✱) mark my three recommendations for this line. And remember that a complete list of Metro stations, respective artists & exact locations forms part of the Endless Mile guide Lisbon: Azulejos. Vamos embora!
---
São Sebastião · Maria Keil, 2009
The red line section of this city-center node contains more than Keil's underground forest. Ridged tiles help keep passengers on the move… very classy.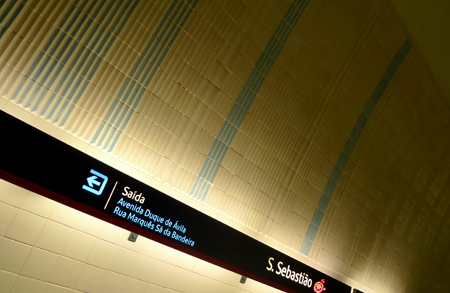 ●
●
●
Saldanha · José Almada Negreiros, 2009
In addition to spectacular panels by Luis Felipe de Abreu in the yellow line section of this station, art by José de Almada Negreiros has been enlarged & made into a tile panel. He would be proud to have his work here, alongside quotations & golden section diagrams.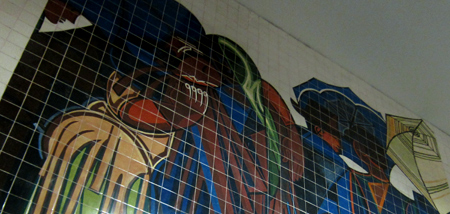 ●
●
●
Alameda · Costa Pinheiro, 1998
Postmodern images related to the Age of Discovery decorate a small area of the station… a little tough to find but worth the hunt.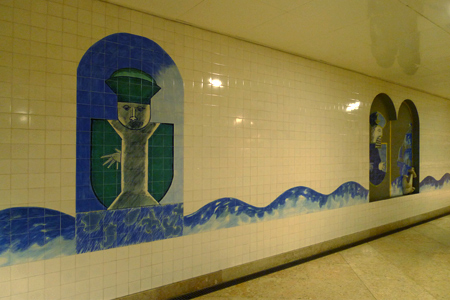 ●
●
●
Olaias · António Palolo, 1998
Architecture instead of tile work is the star of the this station with monumental industrial columns, geometric forms & many different textures… but tiles fit right in.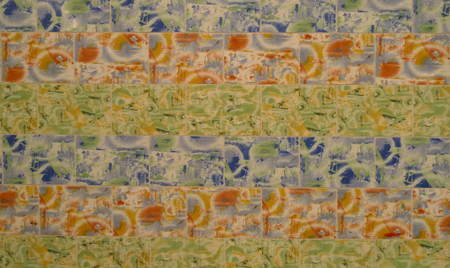 ●
●
●
✱ Bela Vista · Querubim Lapa, 1998
The famous ceramic artist uses diamond patterns in this station, but the real innovation is a series of aresta tiles. Outlines are first carved into a mold, then moist terracotta is pressed inside. When removed, small depressions or wells receive dfferent color compounds. An old technique revived.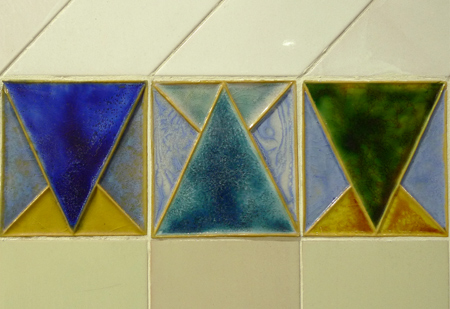 ●
●
●
Chelas · Jorge Martins, 1998
Primary colors seemed fashionable for the World Expo, so this station got an extra dose in 3-D.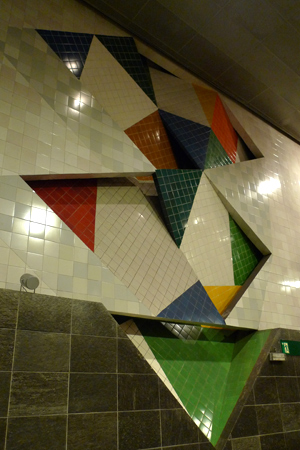 ●
●
●
✱ Olivais · Nuno de Siqueira & Cecília de Sousa, 1998
A favorite station due to its variety, sponge paintings display typical Portuguese topics such as the discoveries, the Torre de Belém & Nossa Senhora de Fátima.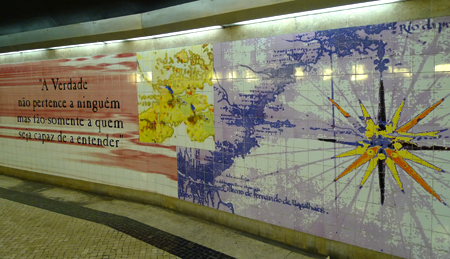 ●
●
●
Cabo Ruivo · David de Almeida, 1998
Although I found no tile work in this station, prehistoric art dominates.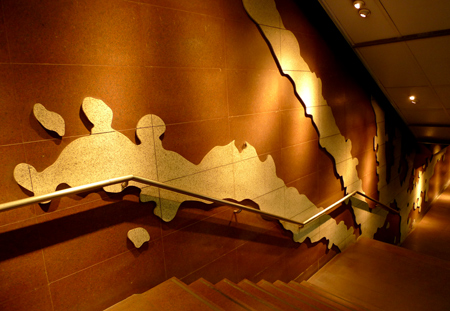 ●
●
●
✱ Oriente · 1998
The end station for Expo '98, an amazing TEN tile panels, each by a different artist, can be found here. The fair's theme —The Oceans, a Heritage for the Future— inspired most of the artwork. I've only pictured three below: a comic book design by Scandinavian artist Eerö, underwater colors by Zao Wou Ki & broad color bands by Sean Scully. Find your favorite of all ten!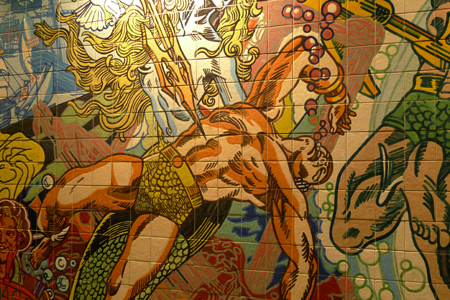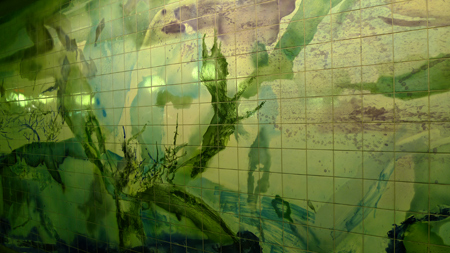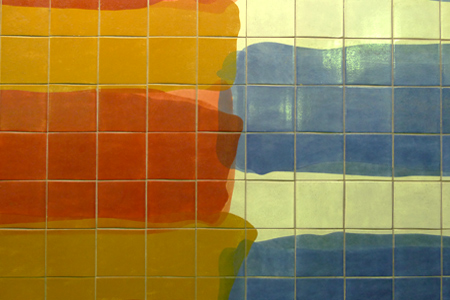 ●
●
●
Moscavide · Manuel Bastos, 2012
Rather plain with linear compositions of three solid colors, this station seems a bit sterile. Or like a bathroom? Not sure of the rationale behind this design.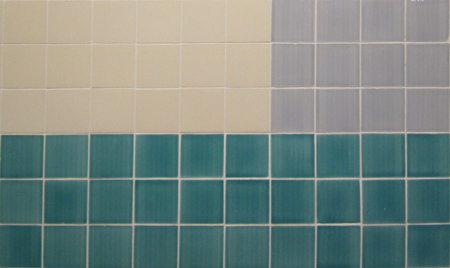 ●
●
●
Encarnação · Alberto Barradas, 2012
With a warmer color palette than the previous station, playful positioning of solid-color tiles adds motion.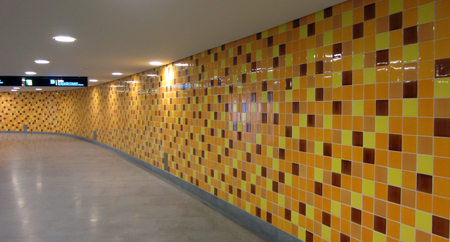 ●
●
●
Aeroporto · António Antunes, 2012
I'm amazed that such an important station would not have an equally important tile panel, but perhaps budget constraints affected decoration. Instead of tiles, a series of caricatures of important Portuguese people decorate the station. I love the architects like Cassiano Branco & Pardal Monteiro, but Fernando Pessoa & Amália Rodrigues are often the most recognizable to visitors arriving at the airport.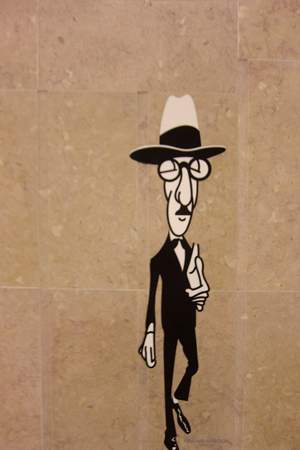 ---
Lisbon Metro, tile series: Basics • Linha verde • Linha azul • Linha amarela • Linha vermelho