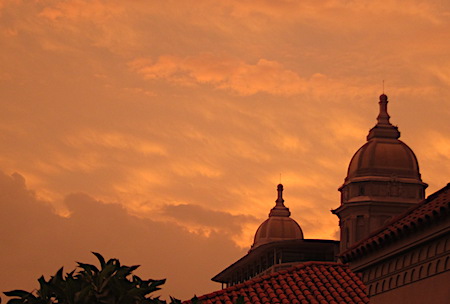 After only three visits, no doubt I'd developed a certain fondness for Montevideo. With a fantastic coastline, the promise of even more areas to explore & very friendly people, it's a good thing I liked the city… because Darío & I were about to move there! He'd been offered a job & even accepted it. Then we began to look at the numbers again, inquire what my residency status would be, etc. & suddenly the move didn't seem like such a good idea.
But hopefully I'll have the opportunity to visit Montevideo again. Here are few more photos that didn't really fit in any of the other posts. The airport in Carrasco is impressive… great design, modern, clean & with free wi-fi!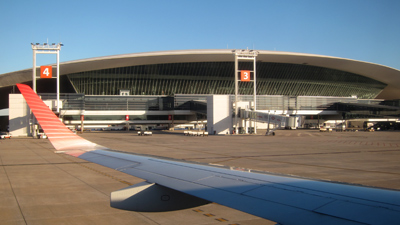 From what I've read, the weather in Montevideo is less sunny than in Buenos Aires. Most of my trips were pleasant enough, but even with a storm brewing, the river views are fantastic: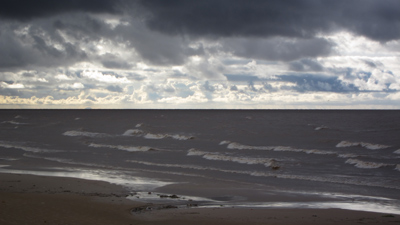 There was one more statue by José Belloni I had to check out… "La Carreta" in Parque Battle: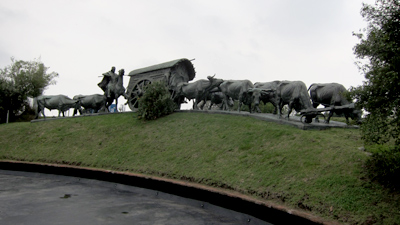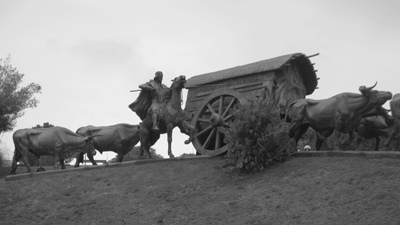 After repeated trips to the Palacio Salvo by Mario Palanti, I realized that there was indeed a way inside. Sort of. A hallway —a much smaller version of the grand passage in the Palacio Barolo in Buenos Aires— is open to the public. Just look toward the corner of the plaza for the large doors, go inside & even more fantastic column capitals can be found.
I've read some rather enthusiastic interpretations of what the various sea creatures & insects might mean. Perhaps a better way to put it would be that I haven't read an explanation that convinced me yet! I just enjoy them for what they are: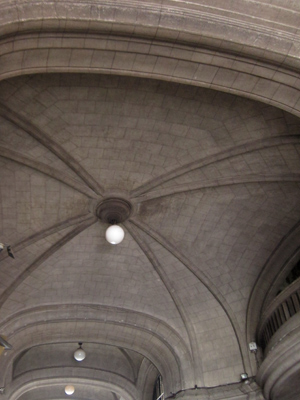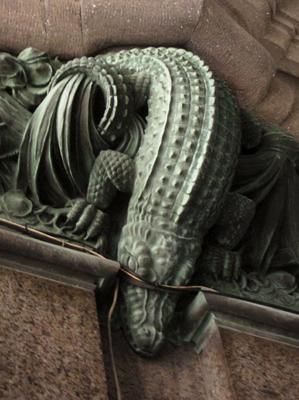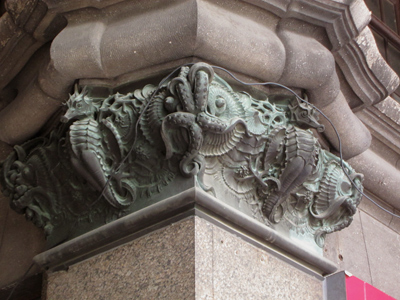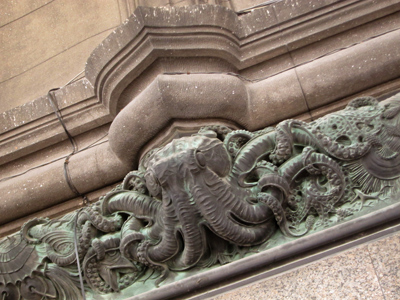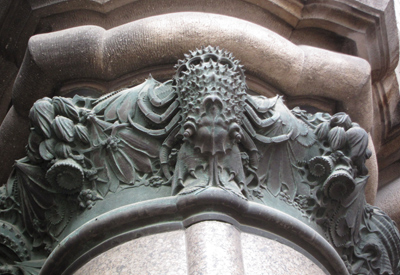 If anyone plans a trip to Buenos Aires, Montevideo should be visited as well… in my opinion, it's even nicer (& certainly less touristy) than Colonia. With our move to Uruguay imminent, I envisioned putting together walking tours to show off the beauty of the city. Perhaps one day I can still do that. ¡Hasta la próxima, Montevideo!
---
Montevideo series: First impressions • Ciudad Vieja • Avenida 18 de Julio • Pocitos • Cementerio Central • Palacio Legislativo • La Aguada • Parque Rodó • El Prado • Final thoughts