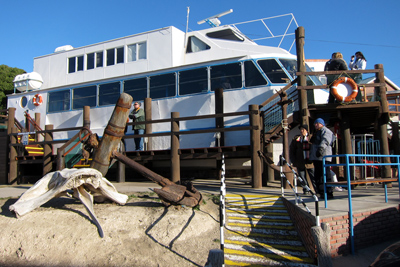 Puerto Madryn is gateway to all the wonderful wildlife which can be seen in Península Valdés. We asked around different agencies & they all charged the same price for excursions: $220 pesos for whale-watching & ditto for a ride around the peninsula. Add in park fees & the total was $460 pesos, or a little over U$S 100 for the day's activities. But it's a captive market, & who doesn't like watching whales??
Our mini-tour bus arrived at the hotel around 08:00. After picking up a few more people along the way at other hotels, we set off… only to break down in the middle of nowhere. Fortunately there were other mini-buses taking people to Puerto Pirámide so Darío & I were back on our way within minutes. Everyone else stayed behind because their boat trip was with a different company.
Although a functioning town of about 150 inhabitants, there isn't a lot going on in Puerto Pirámide that isn't related to tourism. So it's a bit tacky as all small, touristy places are. Every excursion launches from the beach, with the boats being pulled in & out by tractor. That itself is quite a show: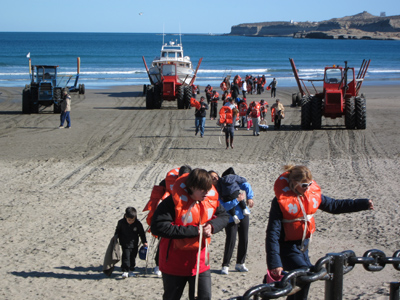 Because it's currently the middle of winter, it was cold. Not numbingly so but pretty darn cold. And being out in a boat for 1.5 hrs, you really feel it. But once we noticed the water was so blue, so beautiful & so peaceful, we quickly forgot about the cold: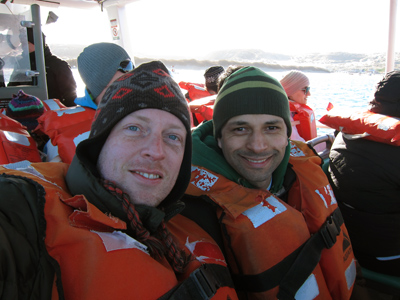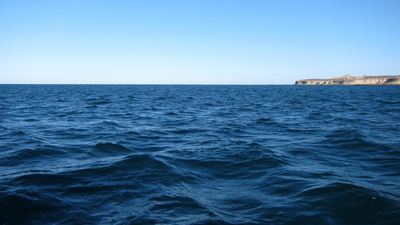 Only 10 minutes after leaving the shore, southern right whales began to check us out. It might sound corny, but I've rarely seen anything so beautiful or gentle, especially for the size of these creatures. There was a mother & her baby swimming upside down, a group of young whales playing together & other individuals having fun with us in the bay. No big jumps so no fantastic photos, but the experience was breathtaking. We even got hit by whale spray… perhaps the equivalent of being sneezed on? Since it was from a whale, we didn't mind: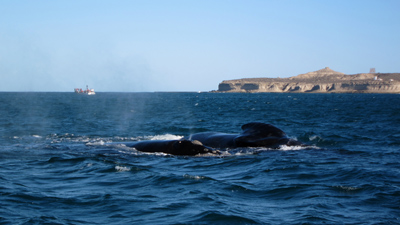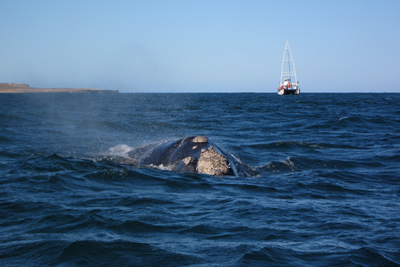 Our biggest problem was lunch. The travel agency said we could bring our own or eat there… of course with more expensive prices. But the food was fantastic. I'd been craving abedejo (pollock? pink cusk-eel?) for a long time & finally got some at Punta Ballena. We met up with our original guide at the resto, & the rest of the group missed their whale excursion due to the bus breakdown. Great. They were still out in the bay & we'd have to wait on them to return & eat before doing the rest of the trip. The afternoon started to drag on…
But eventually we all reunited & drove to a sea lion colony nearby. Sure, they're tiny when far away but so amazing to see them all catching some rays: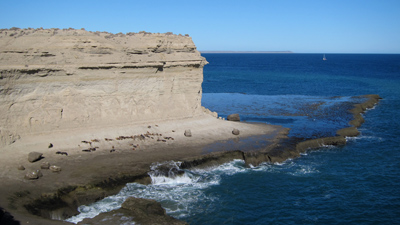 The final part of the excursion was a drive all the way out to the edge of the peninsula. After about an hour on the road, we saw Caleta Valdés from Punta Cantor. A few sea lions were hanging around at the base of the cliff, but the armadillo was more fun. Used to eating scraps from tourists, it stood still just long enough for a photo. The uniqueness of the place impressed me. After getting a quick geology lesson from the guide, I had much better appreciation for those rock formations: sheets so thin that even a gust of wind turned them into dust. Literally part of the future beach.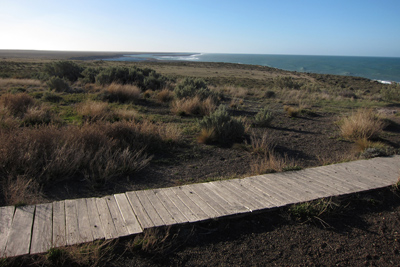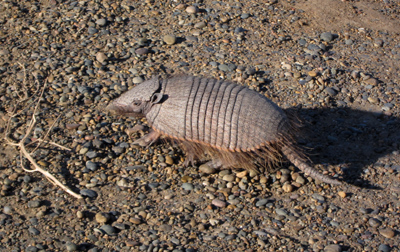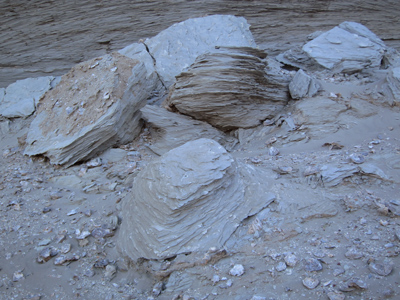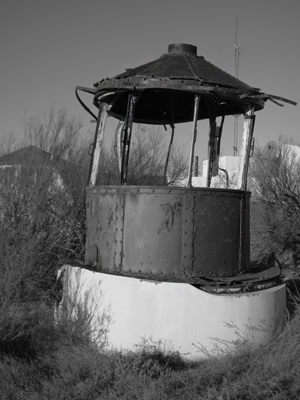 And what excursion would be complete without a poorly translated sign? This one was in the men's restroom in Punta Cantor. Hilarious: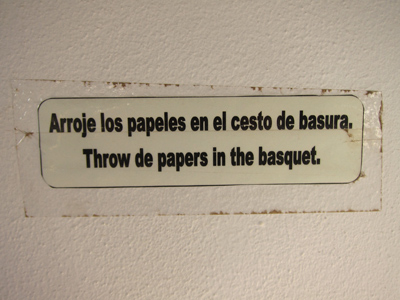 What a day. The drive back seemed to take forever but was great for a siesta. We left for Esquel at 21:30, & believe it or not, that bus broke down on us too. Again, in the middle of nowhere. We sat from 03:30 until 09:00 in Paso de Indios (fortunately with the heat on) until the mechanic arrived. On the road again at 10:30, we arrived in Esquel at 14:00 with practically no breaks. Unbelievable. Who lets their customers sit for 7 hours in the middle of nowhere?? Even a bit much for Argentina. But the entire trip was pretty fantastic… highly recommended.