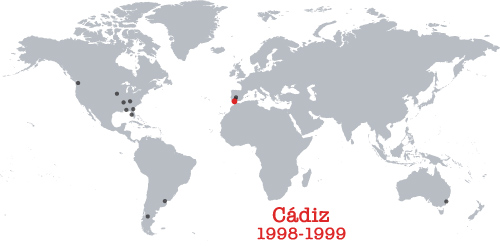 What had we gotten ourselves into? Jorge accepted a year-long position as Assistant Director for the University of Washington study abroad program in Cádiz, & we were suddenly off to Spain. Just like that. Jorge had at least been to Europe before, but for me this was another moment like Seattle in 1994: moving somewhere without any prior visit. Oh well, live & learn. I needed to get out of an awful job + going to Europe had been a lifelong dream. I crammed in as many language lessons as I could before leaving, & our rental agency even agreed to let us sublease the Seattle apartment. Everything seemed to come together… except we didn't have a place to live upon arrival. Details, details.
Cádiz, España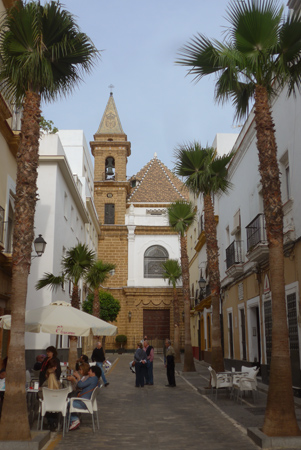 Jorge & I crashed at the program director's spacious apartment for a few weeks since he & his family had yet to arrive. Barely furnished & with a freezer chock full of meat that had spoiled —the smell & maggots will haunt me forever— Cádiz didn't seem like the paradise either of us had expected. Then again, the city needed major investment in 1998. Motos screeched down the narrow streets at all hours, very foreign food made each meal a struggle, & my 101 Spanish proved useless when confronted with that thick, gaditano accent. In the midst of all this, we scoured the local trade rag Cambalache to find a place to live. After seeing a number of apartments in both the old & new part of town, we ended up in La Viña… back then a pretty run-down, working-class neighborhood. Nothing like the photo above from 2017! Unfortunately I don't have the address written down anywhere, nor do I have any pictures of the place. At least I have the following description from my journal:
We finally found an apartment today and are here tonight. This is strange in many ways. The apartment is pretty spacious but with all this furniture & typically Spanish crap in here, it reinforces that I am living someplace forever foreign. It will take some time to make this feel like home…with a little fixing up and some personal touches, things will be just fine. This place is 60,000 pesetas per month which works out to something like $400. For $200 a piece, that isn't bad at all. 
The apartment is on the first floor of a pre-fab building in a row of pre-fab buildings. Not exactly the charm of living in the casco antiguo I was hoping for, but you can't get everything. The funky mirror in the foyer has huge, sculpted metal daisies all around it. That's almost the best part of the place. The living room has a couch & a loveseat with hideous red covers on them to hide the bare cushions on the seat. Those will be replaced very soon. There's a round table with a couple of chairs too… of course with a lace tablecloth. Then there is an immense wall unit with an ancient tv. Actually it reminds me of my grandmother's house because there are knick-knacks everywhere. There is a semi-kinda-wanna-be dining room with another round table in it as well as…get this…the refrigerator. The kitchen is too small for it, so they stuck it in the dining room. Sure. Why not? The dishes & silverware are hideous beyond belief. At least the washing machine seems decent. The dining room also has a door which leads out to the patio. We are the only ones with access to the courtyard so that's nice. The three bedrooms are barely large enough. One of the main complaints I have about this place is that it is built for people who are 5' tall. Countertops and appliances are low and the chandeliers hit my head constantly. The doors are barely tall enough for me to clear. 
●
●
●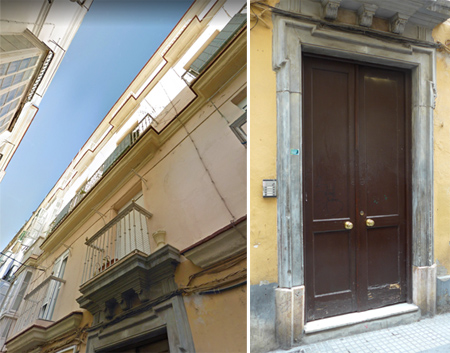 We didn't last long in La Viña, maybe a few weeks max. By some miracle, the landlady even returned our deposit. We'd received word that a two-room apartment, recently renovated for students, had become available at Manuel Rancés, 4. Although tiny & on a street with a few late-night bars, sleeping with earplugs seemed like a decent trade for the new fridge, new washing machine & new stove. The open, central patio for the building —typical of Cádiz— had a grand staircase with 55 large steps that took us to our top-floor apartment. No elevator, no heating, & no A/C but the weather in Cádiz is mild for most of the year. We even got a key to the rooftop with wonderful views. Nothing fancy but nice enough, our rent dropped by half: $200/month (30,000 pesetas) or $100 each. With only savings to live on at first, that made a big difference for me.

Those ten months I lived in Cádiz —as well as trips to the UK, Morocco, France, Greece, Portugal & several treks through Spain— sparked a huge change in my life. I would have never become a tour guide without that experience. My Spanish improved by leaps & bounds, & I grew to love most of the food I tried. Again, live & learn. But my relationship with Jorge failed to improve, so in 1999 we broke up after four+ years together. I packed up & left while Jorge remained behind another whole year & became director of the study abroad program. My most pressing concern was: where would I go??? Our sublet apartment in Seattle still had tenants, so I returned to a place I never thought I'd live again… with my mom!
Places lived series: Florida/Iowa/Alabama 1970-75 ● Memphis 1975-88 ● On campus 1988-94 ● Seattle 1994-98 ● Cádiz 1998-99 ● Memphis/Seattle 1999-2000 ● Buenos Aires 2000-08 ● Sydney 2008-09 ● Buenos Aires 2009-13 ● Esquel 2013-14 ● Seattle yet again 2015-16 ● Sevilla 2016-present ● El Pedroso 2021-present