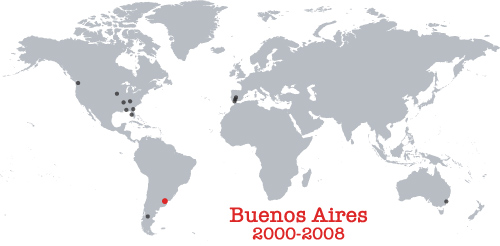 What's new, Buenos Aires? That would be me! I'd spent a month earlier in the year getting to know the city & other places in the region as well. I'm still not sure what went through my head: selling most of my possessions, storing a few boxes in Laura & Dan's garage, getting a new job with Rick Steves in Europe & flying half-way across the world with only four suitcases. But my experience in Cádiz gave me confidence that an international move is possible, even though sacrifices have to be made. After a fitful start, I not only fell in love with Buenos Aires but became obsessed about exploring the city.
Buenos Aires, Argentina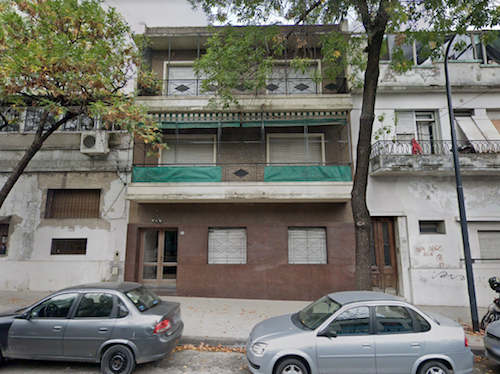 Fabio needed to move out of his apartment before I arrived in December 2000, so he crashed with one of his best friends. Sigrid, her husband & two young kids were also nice enough to let me stay there too while we looked for an apartment. In the heart of Parque Patricios, I won't give the exact address because Sigrid is probably still there… let's just say it's not far from Avenida Caseros & a large park 😉 I got a crash course in how to rent an apartment in Argentina, during an economic crisis, with a version of Spanish I didn't quite understand or speak. Oh my.
●
●
●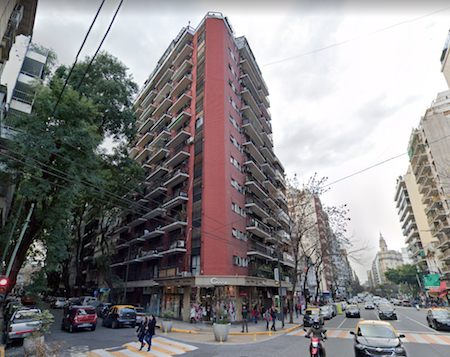 In my experience, the hardest obstacle for a foreigner to overcome in finding a place to rent in Buenos Aires is the garantía. Written into the contract, this "guarantee" is a third-party who agrees to place their own property in lien if the renter fails to pay. They even sign the lease along with the tenants. If you have a large family that owns several properties, then no problem. But Fabio had to resort to asking a cousin (hi Vanina!) who had just purchased an apartment. So complicated.
One problem solved, now what neighborhood do we choose? Buenos Aires is enormous, & I only knew a fraction of the city. Back then, prices were high since the peso had been pegged to the dollar ten years earlier. Both of us had minimal income, so that limited our search as well. Fabio steered us to Caballito, & we signed a two-year lease (the norm) with a real estate agency in January 2001. After moving into a one-bedroom apartment at Eduardo Acevedo 11 – 1ºD for $340/month, I learned right away what to avoid in Buenos Aires. Get ready. I don't think I've ever posted about this experience.

Located on the first level above the ground floor, our apartment had the only access to a narrow light well. Others in the building saw it as a place to throw trash, cigarette butts, you name it. While not excessive, I got tired of cleaning other people's mess so neighbors bitched when I quit. Fuck off. Neighbors also slammed the door in our faces, even when we showed our key to the building. Rude. The living room sat above the main building entrance so we had to hear the glass door shut a gazillion times per day as everyone came & went. Ah, but that wasn't the only noise. Just off the busiest street in the city, buses & traffic zoomed down Avenida Rivadavia at all hours. Drove me nuts. Most apartment buildings in BA have porteros who take care of general maintenance & cleanliness. Notorious for being nosy, ours was a piece of shit. He wanted my advice on how to sneak his son into the US. Seriously. Also, the porteros across the street had a direct line of sight into our bedroom & living room no matter how low we kept the blinds. One day our portero let us know that the guys across the street didn't want to see us in the buff. Our response: don't look. Far from exhibitionists, we also needed some air in the place. And that horrible gas heater that couldn't maintain a pilot light. I did like the neighborhood though & would later develop a Caballito walking tour to show visitors some very cool parts of non-touristy Buenos Aires.
●
●
●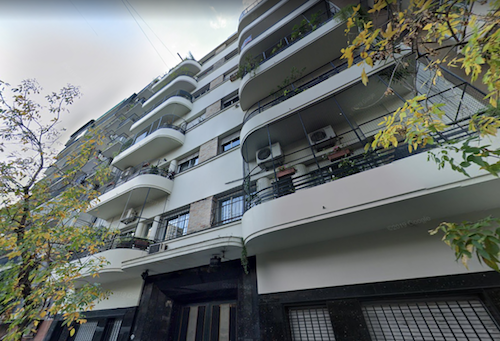 I'm not sure how Fabio & I lasted almost a year & a half in that Caballito apartment, but we found a way out via the 2001 economic crisis. After the peso devalued in 2002, all contracts in dollars became null. People were also desperate for cash due to frozen investments & limited ATM withdrawals. Fabio & I got the idea to look for a new place & save my sanity. On the edge of Recoleta between two major avenues, this 1940s racionalista building had windows facing the interior of the block, tons of room, a fantastic kitchen, easy subway access, multiple grocery stores within walking distance & as we'd discover, wonderful neighbors. We moved into the 2-bedroom apartment at Paraguay 1949, 5ºD in May 2002 for 890 pesos/month (about $300 at the time). Apart from saving money, having more space & a furnished apartment, we finally had peace & quiet.
If I ever had any regrets in life, not buying this apartment ranks at #1. Before signing the lease, the owner offered us a sale price of $47,000. That's right. People were anxious for cash, but we just didn't have it. When I moved out six years later, the property value had gone up to $250,000! But making $203K isn't as much of a regret as losing this wonderful space. We entertained, had office space + a spare bedroom, I stayed after Fabio & I broke up in 2005, my walking tours of Buenos Aires & Recoleta Cemetery project got their start here (thanks Mar!), Benjamin & I had limitless bottles of Malbec in the living room… en fin, a place that made me feel at home. When I renewed the lease in 2006, rent only went up to 990 pesos (about $325) because the owner knew I'd take care of this gem. The last increase was to 1300 pesos in 2007 (about $420); still a decent price even with building fees tripling. I wonder who's living there now…

I never tired of the big-city view or sunsets from the back balcony. The gargantuan Facultad de Medicina always wanted to steal the show:

My timing may have been off when moving to Buenos Aires in 2000… or not. I experienced one version of the city, witnessed a major upheaval, then saw the process of recovery. At the same time, I walked & walked & walked as well as documented each step with a previous version of this blog. I doubt any of those discoveries would have happened without these apartments. Years working in tourism & living in Buenos Aires also gave me an urge to create something more permanent & long-lasting. But what? As I tried to navigate the dawn of the smartphone era & relate it to tourism, I ran into a brick wall. Nothing made sense & my journals from that time show the frustration. I needed another change, I needed my best friend & I needed room to breathe. What's new, Sydney?
Places lived series: Florida/Iowa/Alabama 1970-75 ● Memphis 1975-88 ● On campus 1988-94 ● Seattle 1994-98 ● Cádiz 1998-99 ● Memphis/Seattle 1999-2000 ● Buenos Aires 2000-08 ● Sydney 2008-09 ● Buenos Aires 2009-13 ● Esquel 2013-14 ● Seattle yet again 2015-16 ● Sevilla 2016-present ● El Pedroso 2021-present