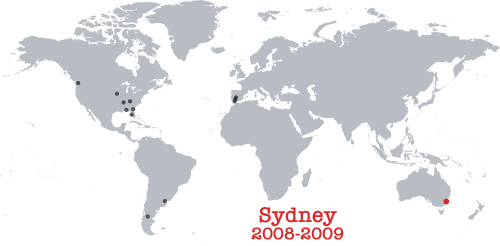 Remember Susan from Seattle? She made an international move too, not long after I left for Buenos Aires. Sooz also fell in love & went south, but on the other side of the Pacific to Sydney. I'd visited once before although never saw myself living in Australia until a mini-personal crisis had me searching for inspiration. Buenos Aires had become increasingly politicized, things I'd grown to love about the city were disappearing fast, planning for the future seemed unstable, good friends moved away, & I couldn't get past a creative block to design my own guidebooks. Susan steps in with an offer I couldn't refuse: live with her & Sybil in Sydney to get back on track.
Sydney, Australia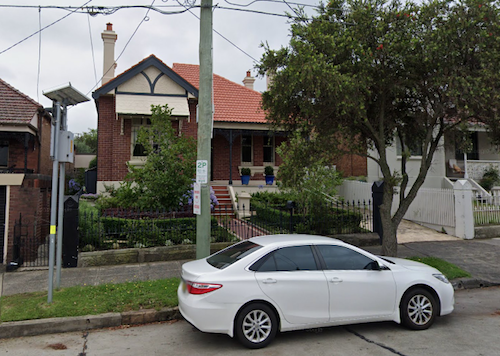 Susan & Sybil previously lived in a Newtown duplex, but with Marklar & Bintik (very cute canine & feline family members) they'd come to outgrow that space. They looked for something bigger, so also included an extra room for me in their house search. Incredibly kind. Knowing that I wouldn't have a car, the house at 213 Wardell Road in Dulwich Hill hit the spot with a train station nearby & a short walk to get to Marrickville. Great location, especially for practicing Portuguese with the family where we ordered roast chicken!
Victorian-inspired, Federation Filigree houses are common in Sydney suburbs, & living in one was a dream come true for me. Rooms are organized down both sides of a central corridor that connects the front door to the back door. Simple layout but very spacious since the house occupies most of the lot width. The left side had the living room, bathroom, kitchen & laundry room; down the right ran a shared office space, two bedrooms, a dining room & I believe a storage closet. Susan & Sybil had most of the decoration done when I arrived in July 2008, but let me furnish & decorate my own bedroom. What a beautiful home!

Since my blog went on hiatus during the seven months I lived in Sydney, I never shared those daily explorations or new experiences with online readers: Asian food markets in Campsie, fantastic food everywhere, a beautiful birthday celebration, architecture walks, architecture talks with Sybil's father, Marrickville Metro, catsitting for Sybil's mom in Watsons Bay, ferries as public transportation, weekday matinées at downtown movie theaters, Bintik cuddles, Perquackey, playing Sega again with Sooz & lots of new wine to try. There were also some negatives: difficult to date & meet people, Sydney loves cars more than pedestrians, incredibly expensive when I first arrived, an out-of-control UV index, & the strictest immigration laws I've encountered coupled with an undercurrent of racism. At least in my experience.
Although I lived rent-free, my house duties included shopping & cooking… which became more difficult as time went by. So around New Year's I decided to leave & return to Buenos Aires. I'd genuinely missed the city, & I finally had an idea that would grow into Endless Mile. With a clearer head & after developing two new tours for Rick Steves, the time seemed right to go back to Buenos Aires & pick up where I'd left off. I came to Sydney with three suitcases but left with four & needed a new apartment to put it all!!
Places lived series: Florida/Iowa/Alabama 1970-75 ● Memphis 1975-88 ● On campus 1988-94 ● Seattle 1994-98 ● Cádiz 1998-99 ● Memphis/Seattle 1999-2000 ● Buenos Aires 2000-08 ● Sydney 2008-09 ● Buenos Aires 2009-13 ● Esquel 2013-14 ● Seattle yet again 2015-16 ● Sevilla 2016-present ● El Pedroso 2021-present