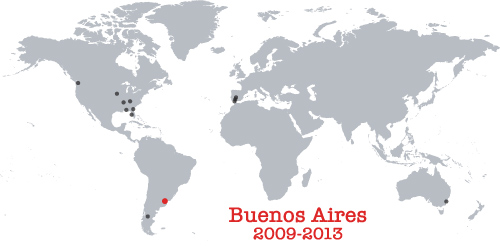 Back in BA, some big decisions had to be made. What neighborhood to live in? Would I have much work in Europe? How do I pick an apartment when my income was anything but certain? The global tourism decline of 2009 had everyone in the industry second-guessing, including me. I toyed with the idea of producing my Buenos Aires guides as quickly as possible then moving to Lisbon, but that would be expensive. Luckily with the help of friends, I weathered the storm.
Buenos Aires, Argentina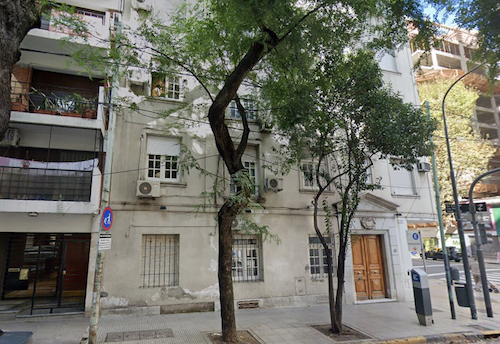 Before leaving Sydney, I put a few wheels in motion & contacted lots of people in Buenos Aires. I needed a temporary spot to begin an apartment search & scope out what had changed while I'd been away. Fortunately Juan & Magoo knew someone who had just renovated a small studio to use as a tourist rental. I negotiated a monthly price of 550 pesos (about $160 at the time) thinking I'd be there for maybe three months. The 26 square-meter place at Uriburu 1711 may have been teeny-tiny, but it worked. Next to Recoleta Cemetery, the location gave me easy access to continue writing my first guidebook. Turns out I'd only stay for one month.

●
●
●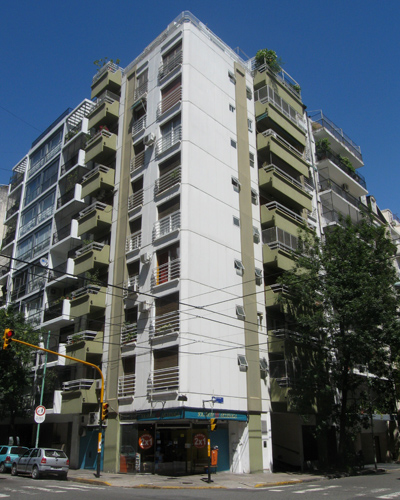 No time to let dust settle. I really wanted to live in a different part of Buenos Aires, so I focused on Almagro, Boedo & Barracas… places I knew well but wanted to explore more on a daily basis. After one thwarted attempt (& foolishly losing a deposit), Juan came to the rescue again. His sister, who lived in Recoleta, wanted to rent a top-floor studio she'd soon vacate. Although I had some reservations, Linda trusted Juan who trusted me, so I didn't have to provide a garantía. Where do I sign?
The apartment at Azcuénaga 1493, 10ºA seemed perfect at first. But on closer inspection it needed a lot of work, mainly painting & new kitchen cabinets. What did I get myself into? On top of that, between the time Linda moved out & I moved in, two groups of cockroaches took over… as well as mites in the closet. I thought I was doomed. Fortunately, the portero —my only other neighbor— knew someone who did good & quick apartment makeovers. Linda had no problem as long I paid for the changes, so I became the interior designer I always wanted to be. Bug problem gone, kitchen cabinets replaced by open shelves, new plaster/paint job & the removal of a pesky divider. In the meantime, Fabio brought over some of my things he'd stored while I was in Australia & I spent a lot of time scouring the city for furniture bargains. Crazy time.

Fortunately things started to come together. Although long & narrow with the bathroom occupying too much space, I loved watching sunsets from the balcony. I didn't like the summer sun blazing in so much, but I prefer too much light than not enough. To account for the continuing drop in value of the peso, rental agreements included yearly increases instead of every two years. And it was anyone's guess what the economy would do in 12 months. My initial rent in March 2009 of 1450 pesos went to 1595 the second year, then 1950 & reached 2250 pesos in 2012. Building expenses weren't included, so that was another rollercoaster of additional cost. But in dollar terms, the progression went something like: $394 to $413 to $485 to $516… only about a $100 increase over four years. Not bad. I think I made it into a pretty cute & comfy place.

●
●
●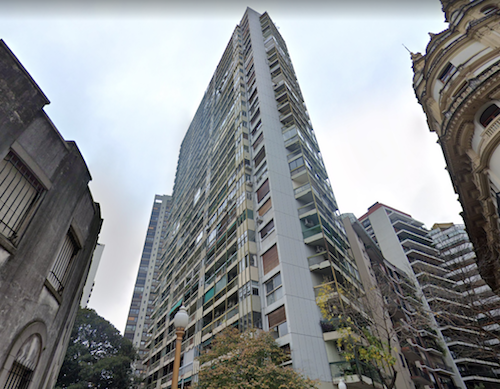 A few months after I moved into the studio on Azcuénaga, I began dating Darío. Although he lived in Esquel, he often came to Buenos Aires & then I spent months at a time in Patagonia with him… a long-distance relationship but we made it work with travel to Europe as well. In 2013, he got a job near Plaza San Martín in the heart of Retiro. Since we wouldn't both be able to live in my tiny studio & he wanted to be within walking distance to work, the apartment search began again.
We ended up at Arroyo 897, 11ºC for a whopping rent of 5300 pesos in August 2012. That came to $1150, but my half was only $575… so only $60 more than the previous apartment. Furnished & with fantastic views over a chic part of the city, without a garantía we had to pay six months of rent in advance. Such an insane system. Unfortunately I have no interior photos except for the mod tile panel in the building foyer. The kitchen was wonderful, big & modern + I had a clothes dryer for the first time in 13 years. Oh, those towels! Other than that, it was fairly nondescript but with a great location & wonderful sunset/stormy views of Buenos Aires.

Just like Seattle, Buenos Aires has always taken care of me… although getting through that first year back was exhausting & stressful, especially with my mom passing away that same year. However, tourism eventually picked up in Europe, I started guiding for NYU in Buenos Aires, & my PDF guidebooks really came together. Darío & I even thought we'd be moving to Uruguay, but that didn't pan out. After his contract expired in BA, moving to Esquel made the most sense to stay together. Darío had smartly kept his apartment there, but we would find an even better place… just across the hallway. Hello, Patagonia!
Places lived series: Florida/Iowa/Alabama 1970-75 ● Memphis 1975-88 ● On campus 1988-94 ● Seattle 1994-98 ● Cádiz 1998-99 ● Memphis/Seattle 1999-2000 ● Buenos Aires 2000-08 ● Sydney 2008-09 ● Buenos Aires 2009-13 ● Esquel 2013-14 ● Seattle yet again 2015-16 ● Sevilla 2016-present ● El Pedroso 2021-present