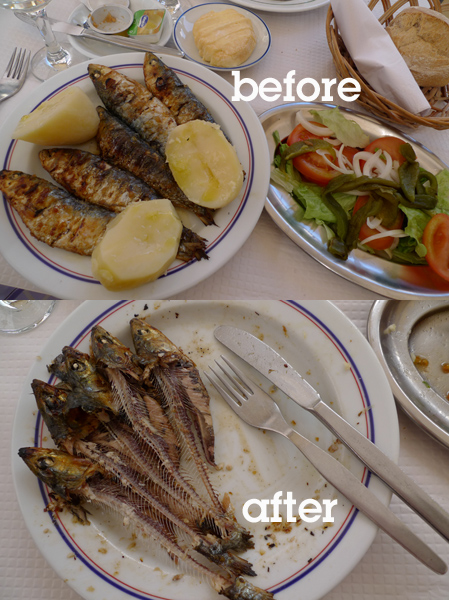 For years I joked about making a video on how to eat grilled sardines… now that I'm guiding groups for Rick Steves in Portugal on a regular basis, I've been convinced to do one. Sardinhas assadas or grelhadas are a Portuguese staple, in season from the end of May to the end of October. Make no mistake; these are fresh, not canned. And because their season coincides with summer as well as Lisboa's biggest party —the feast day of Santo António— just the smell of these yummy fish on the grill conjures up all kinds of great memories.
I decided to film this since most of my tour members from the United States aren't familiar with eating a whole fish. Growing up in Memphis, I can understand their initial reaction. No one in my neighborhood ate fresh fish, & the thought of a fish head on a plate was hardly appetizing. But long ago I learned to appreciate having the whole fish on my plate, overcame the challenge of using a fish knife & now I wouldn't have my fish any other way. As I explain in the video, everyone has their own style for eating sardines; however, this method works for me.
Hope you find this useful!