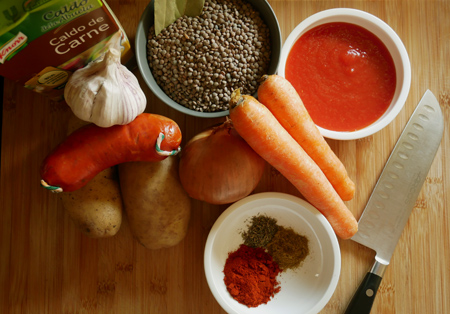 A big bowl of lentil stew makes any winter day warm & cozy… delicious even while temps in Sevilla reach 23ºC in mid-February! Every Spaniard grows up with their family's version of this classic dish, & Rafa finally let me have a go at making this crowdpleaser. Lots of spices along with onions, carrots & potatoes give fantastic flavor to a basic kitchen staple: the lentil. One taste & this may become your favorite stew, regardless of the season.
Lentejas
4 cloves garlic, minced
1 medium onion, diced
2 carrots, diced
1 chorizo, sliced
2 bay leaves
1 T paprika (pimentón dulce)
1 t cumin
1 t thyme
1.5 c lentils pardina, rinsed (300 g)
1/2 c tomato purée (or 1 large tomato, chopped)
4 c beef stock or water (1 L) + more as needed
2 medium potatoes, peeled & chascadas
extra virgen olive oil, as needed
Step 1: Give everything a head start. Sauté garlic & bay leaves in abundant olive oil on medium heat for one minute. Add onions & cook until just transparent, about 4-5 minutes. Next add carrot & sauté for 2 more minutes. Chorizo comes last & just before completely cooked through, add all remaining spices & sauté for 1 additional minute. This part comes together quickly, so be sure to have all ingredients prepped & ready to add.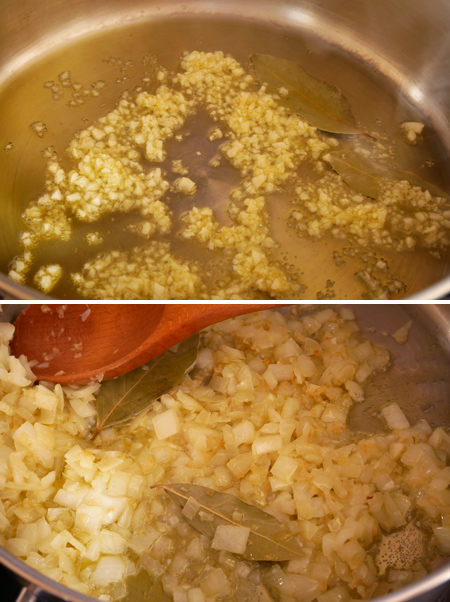 Step 2: Let's talk lentils. Spain has three main varieties grown & used locally: castellana, verdina & pardina. While the choice of lentil is up to you —as long as it's not a quick-cooking variety like yellow or red— pardina (brown) works best because this variety needs no soaking overnight & keeps its skin when cooked. The castellana variety is larger, takes longer to cook & requires soaking in water for a few hours; verdinas have a mottled, greenish hue & also require a brief soak. If you can't find pardina, total time for this recipe is 45-55 minutes… find a lentil variety with a similar cook time & you're good to go.

Add lentils & cook for 2 minutes. Next add fresh tomatoes (or purée) & mix well. Cook only for a short time; don't let the mixture get too dry. Most folks make a simple version of this recipe with adding just water next, but I love the richness of beef broth. Either is perfectly fine, but be sure to add salt at this step if using only water. Add broth or water, stir, cover & bring to a boil. Then lower heat to a high simmer —some bubbles are good but not too many— and cook for 30 minutes while stirring occasionally.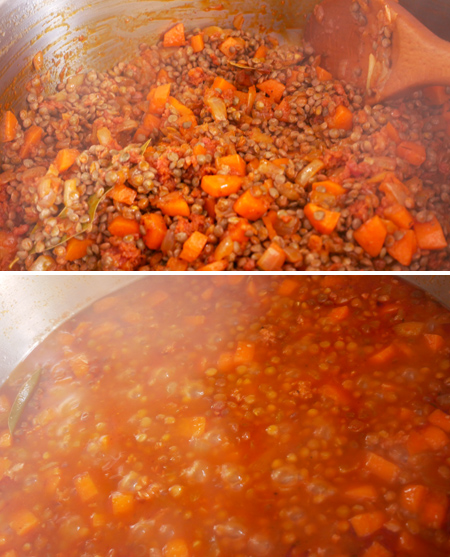 Step 3: Thicken things up. Peel your potatoes & get ready to chascar. Often used to describe the sound of a twig or branch snapping in two, a chasquido is also that sound of breaking —not slicing— a potato. *Crack!* Key for this recipe, insert your knife partially into the potato, use it as a lever & break off a chunk. Takes a bit of practice to get all pieces roughly the same size, but the advantage of "chascar-ing" is the release of all that potato starch. Your knife will be covered in it, & your stew will thicken nicely thanks to this technique:

After Step 2 is complete, add those starchy potatoes to the pot & cook for an additional 25 minutes at a low simmer.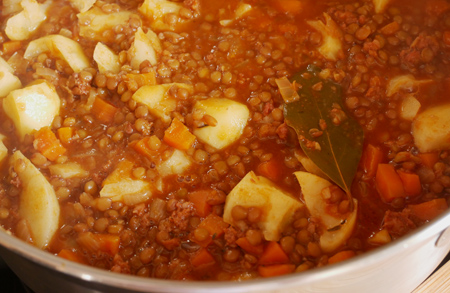 Step 4: Adjust. Taste for salt… if your beef broth had salt, you probably won't need to add any extra. Never hurts to check though. Are the lentils still slightly undercooked? Add a touch more water & continue to cook at low heat. Check every 5-7 minutes for doneness. The final result should look something like this yummy pot of goodness: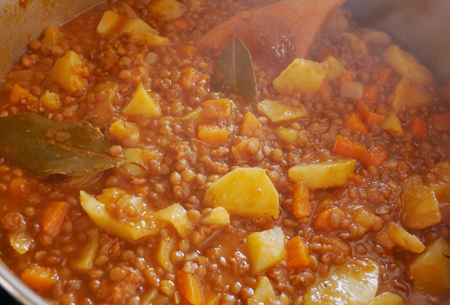 ---
Variations on a theme: Lentils may be served with a touch of vinegar for a hit of acid, or even with a guindilla… similar to a mini banana pepper cured in vinegar. Some folks add rib tips for a meatier version. Like garlic? Go crazy. Like it spicy? Add some cayenne, or even better with Tabasco! The amount of liquid can also vary, from thick to a more soupy consistency. You do you. The best part of lentil stew is how varied it can be & how you can make it your own. Lentils also freeze well, so make a double batch for a rainy day & enjoy a bit of home cooking from Spain. ¡Que aproveche!