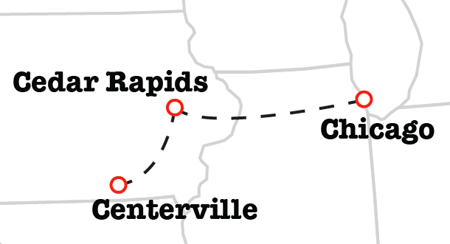 Our second trip to the US together packed with as much Americana as possible! The main objective was to visit my aunt & uncle, but also to see how much of my mom's stuff I'd have to ship to Spain. This involved a trip to the heart of Iowa; however, we also took a week to explore Chicago since we were already there. Let's get on the road…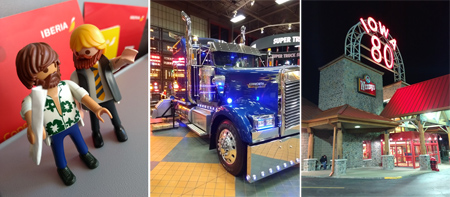 I pushed through the jet lag & drove four hours to Cedar Rapids after our flight landed in Chicago. Maybe not the brightest of decisions, but at least we woke up in Iowa ready to go. Rafa even got to see the world's largest truck stop & try a bowl of Wendy's chili. The journey had begun 😉
Cedar Rapids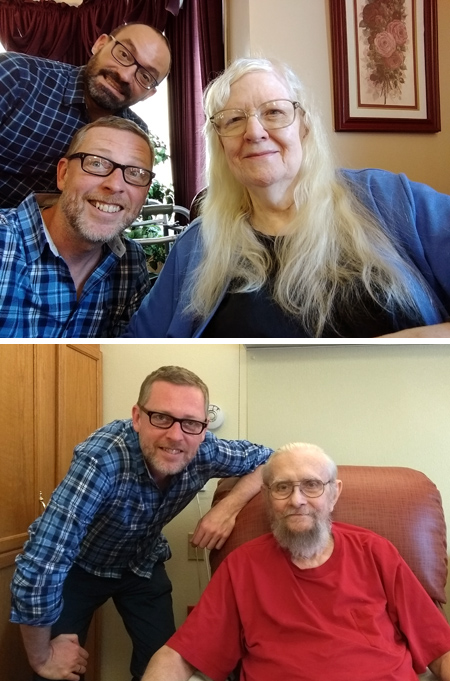 We took a few hours to see my aunt & uncle briefly before continuing south, but later returned to spend a few days. Rafa got along well with my aunt & uncle, in spite of the language barrier, & they seemed genuinely happy I'd gotten married. Little did I know this was the last time I'd see my uncle alive… he passed away about one year later. I'm glad Rafa got to meet him.

Meanwhile, we had time to visit the city —something I usually don't have time to do. A guided tour of the large Masonic library, a foggy drive through Lynnwood Cemetery, drinks at a Louis Sullivan bank turned into a fancy bar, walking through the Veteran's Memorial & spending a fun night at the Iowa Brewing Co. all made for a memorable stay.
Centerville

I hadn't returned to Centerville since my mom passed away in 2009, so I wasn't sure just how much of her stuff I'd kept. I knew it was a lot & had no intention of going through it all in a damp basement with Rafa. But I needed an idea of the volume to get an estimate for container space… so glad I already had experience shipping my own stuff to Spain! We found someone who wanted the piano in Illinois (thank goodness) & took a photo inventory of everything else.
I booked a cozy-looking bed & breakfast since hotel options were limited. While talking with the owner, I realized I'd been inside before but couldn't remember when or why… oh yeah, it used to be a funeral home & my grandmother's service had taken place there in 1981!! Far from spooky, it was actually comforting for me. The crazy decor got even more wild as Christmas decorations went up. Rhonda ran quite a place, unfortunately closed in 2019.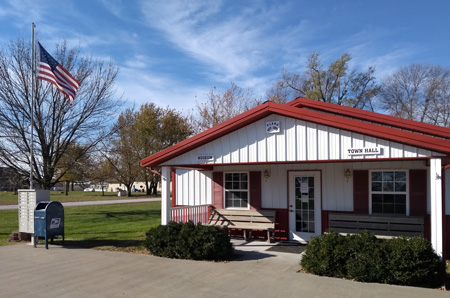 The best part for me was showing Rafa where I'd spent so many summers as a kid at my grandparents' former house, eating amazing pizza at George & Nick's, & seeing some family history in the coal mining museum. We even took a trip to Moulton (population 575) to see my step-grandmother & to Plano (population 67!) to see where my grandfather's model of the town is on display in the town hall.
Chicago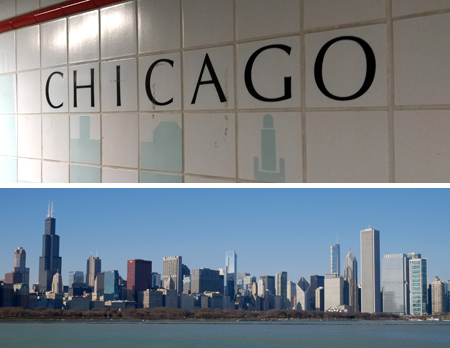 Spending time in a big city contrasted with the more rural area that we'd just seen. I'd never spent more than a few hours in Chicago, so I was excited to see the city. We had such a great time, even while freezing on the architecture river cruise. I knew Chicago would be impressive, but I honestly had no idea how great it is.

Besides tons of neighborhood walks & lots of museum time —we could have easily spent days in the Art Institute— a former tour member of mine organized a visit to Oak Park & all the Frank Lloyd Wright buildings there. The guided visit was so informative & engaging… this is why we always visit every Frank Lloyd Wright building we can while in the US.

Later that week, Barbara even took us to see Hamilton! I was skeptical at first because I'm not a huge fan of musicals but what a show. I wanted to see it again immediately after the last curtain dropped. It even snowed on our wedding anniversary, & we saw Santa arrive in an unexpected parade. Chicago pulled out all the stops for us.

Props to the Whitehall Hotel for fantastic rooms & service. We can't wait to return & explore more!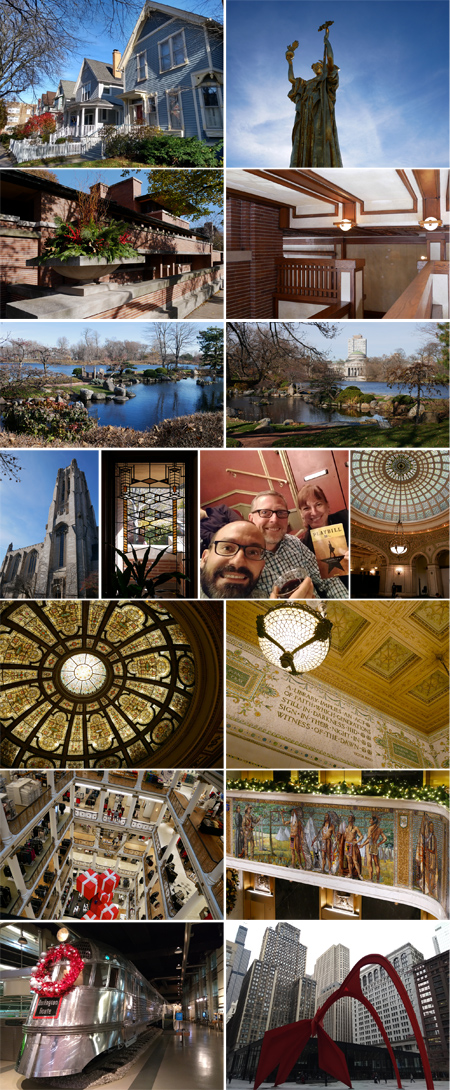 ---
No one I've dated has ever been to Iowa, so Rafa tagging along meant the world to me as did his genuine excitement for all we saw. Yes, those farms you see in the movies really do exist!! 😉 Finding my aunt & uncle's house already sold + a strange coat of brown paint on my grandparents' former home provoked some mixed emotions, but it was good to close that chapter. Time to move on. And while overwhelming, to have my mom's belongings one step closer to Spain was a huge relief. I'd paid for 9 years of storage, & that was plenty. I hope this post convinces more people to take a road trip through the Midwest!