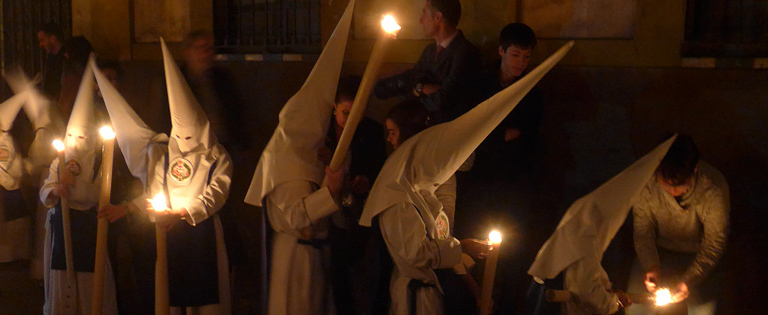 With Holy Week on hold due to coronavirus, there's no better time to relive some of my favorite moments from previous years. The Vatican may allow a grand procession after quarantine is over, & there's even talk of celebrating Semana Santa in September. Whatever. Festivities should have begun today. It's a moment many sevillanos look forward to all year long, including me.
Although I'm not Catholic & was raised in an agnostic home, Semana Santa transcends religion. This week also celebrates a sense of community, an end of the winter blues & of course, rebirth. We can all relate to that. A couple years ago after the Christmas season ended on Epiphany, I told my husband, "We've got to start getting ready for Holy Week!" He laughed & joked, "That's the most sevillano thing you've ever said." Tag along with us during a normal year…
---
Pre-Semana Santa
Building up to the week before Easter, Sevilla can't seem to wait. Many images are brought down to ground level so anyone can get near, say a prayer & kiss the hands or feet (besamanos or besapíes) of either Mary or Jesus. Queues can be long, especially for the larger brotherhoods. I love seeing images up close, how they're dressed & also how devout so many people are.
Parishes will also parade their images of Jesus around the neighborhood on a smaller float reenacting the Via Crucis. These processions are more intimate with only a few people walking along & less fuss. Other moments I especially like are watching costaleros (the guys who carry floats) practice with a barebones structure as well as the actual mounting of images on floats. Quinta Angustia & San Bernardo aren't to be missed. Also, churches often allow visitors to see floats up close as they're being built. All this activity can't help but get us excited for the big week!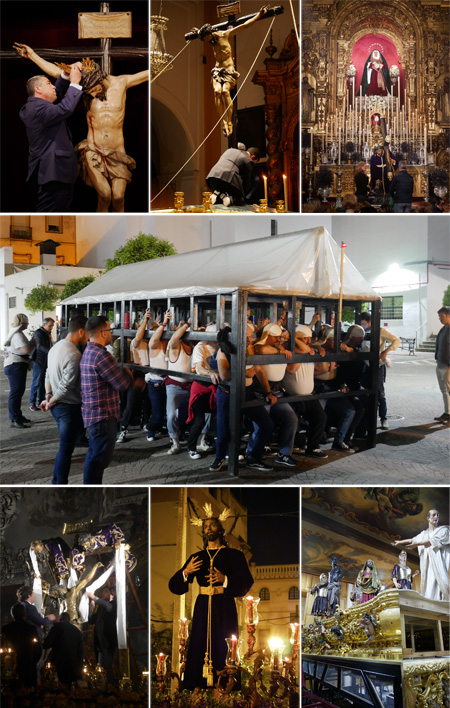 Let's get started
I'm lucky to live in the neighborhood where the first float comes out on Sunday. So Nuestra Señora de la Paz is a highlight for me… I just walk around the corner, grab a good spot & wait for Semana Santa to begin. Always a thrill.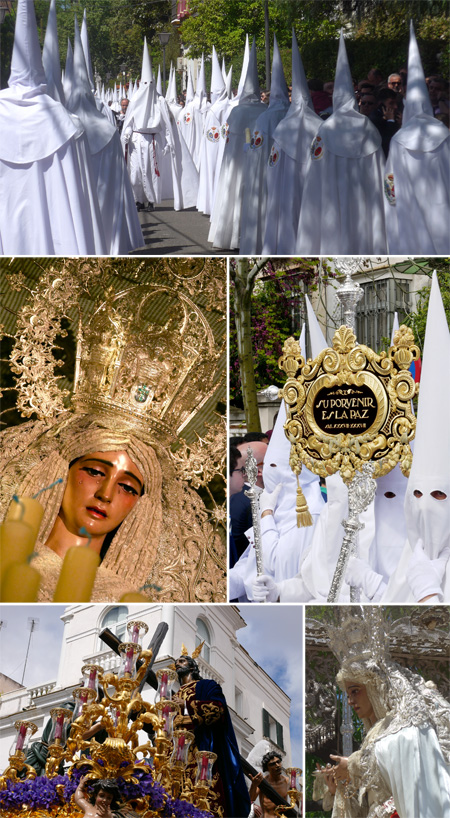 Convent salutations
Certain processions stop at convents along the route, turn & face the main door, then continue on their way. Cloistered nuns cannot go to Semana Santa, so Semana Santa comes to them. Some sing hymns or some even allow themselves to be seen at the entrance of the convent. It's like getting a sneak peek into another world, something I want to witness.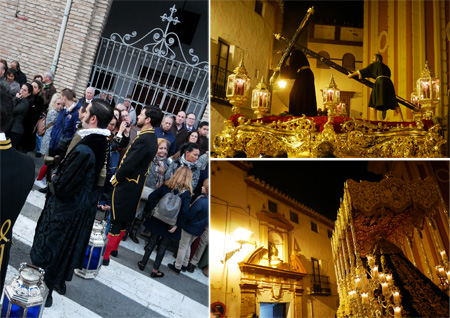 Sing a song
Continuing with music… The majority of processions are accompanied by marching bands that provide audible cues for the costaleros & energize spectators. Who doesn't love a good march? That said, most of my favorite processions are solemn & go in silence or are only accompanied by a small group of singers. There's something magical about seeing a float go by on a street with the lights out & hearing only choral music come & go. Also, if you're lucky enough to hear a saeta —a flamenco-styled religious hymn sung a cappella— you'll never forget it.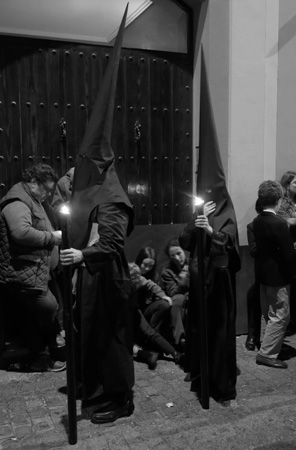 Entradas and salidas
Floats are often tall with lots of ornamentation, & church doors are big enough for them to enter or exit. But it can be a tight fit. Seeing how these enormous constructions get in & out of buildings or turn on to narrow streets is a thrill… all carried by men who can't see where they're going! They may rely on musical cues but often just the voice of the capataz or headmaster alone. Also, witnessing a float on the street for the first time since last year brings a rush. It makes the standing & waiting for a couple of hours all worth it.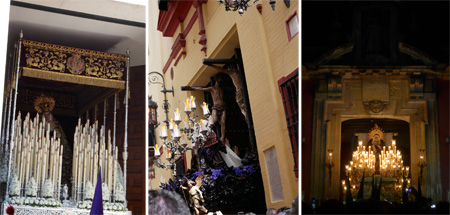 Candlelight
Floats draw a lot of attention, but I love watching the nazarenos & penitentes as well… especially at night. When the procession stops to rest, wonderful photo ops are to be had: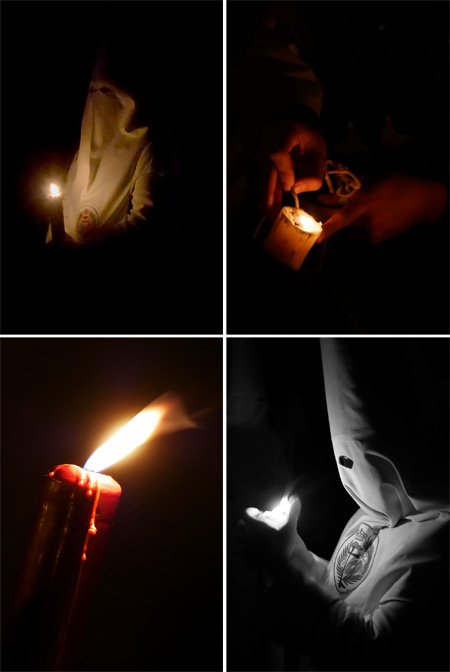 Not to be missed
Rafa has his favorites as do I. We often coincide, but there are some processions I just can't miss. Why? Hearing a single bell rung by hand as La Sagrada Mortaja announces the death of Jesus chills to the bone & harks back a few hundred years. La Vera Cruz, joined by other brotherhoods from across Spain, solemnly carries a piece of the true cross, & the faithful walk through the procession to kiss the reliquary. Three floats accompany El Santo Entierro: defeated Death as a skeleton, a NeoGothic coffin of Christ & at the end comes Mary in mourning. They're accompanied by members of all other brotherhoods in Sevilla as well. I'm odd that Madrugá doesn't hold much personal interest, but the floats described above sum up Semana Santa for me.
---
I had the enormous pleasure of guiding a tour through Andalucía last year for Rick Steves during Semana Santa. I loved the opportunity to experience Holy Week in other places (Granada, Ronda & Arcos de la Frontera) as well as teaching the group how to understand its details, but I missed Sevilla each & every day. En fin, Holy Week has had more of an effect on me in the past four years that I've lived in Sevilla than I ever thought possible. Everyone should experience such a celebration… see you here next year!