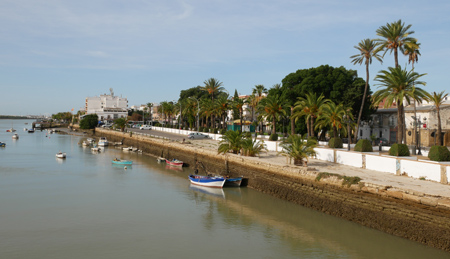 Just over an hour from Sevilla on the same train that goes to Jerez & Cádiz, most visitors zoom past El Puerto de Santa María without a second thought. But its beautiful beaches, interesting architecture & vibrant cuisine scene make for a great, non-touristy overnight stay. Explore with us…
If arriving by train, follow the Guadalete River into the city center. But there's a better way to get to El Puerto: by boat! True to its name, the port has public transportation connections via water from the city across the bay, Cádiz. A 30-minute ride gives passengers a beautiful overview of the windswept Bahía de Cádiz, plus an opportunity to check out the latest bridge. Opened in 2015, the cable-stay Puente de La Pepa gets its nickname from the 1812 Constitution signed in Cádiz & spans a whopping three kilometers… the longest in Spain & the third longest in Europe: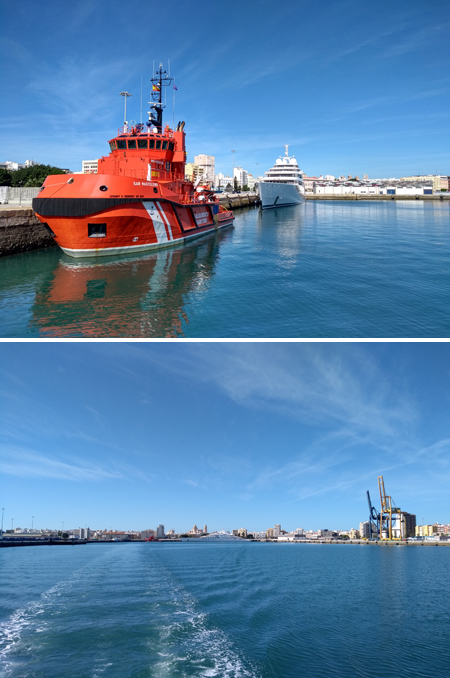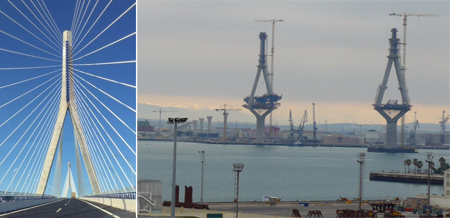 No matter how you get there, stroll along the river to get a feel for how important commerce has been to El Puerto. Also think about Christopher Columbus spending time here pre-1492… obtaining important funds prior to Ferdinand & Isabel agreeing to back his journey. Salt flats, visible in the distance, have been producing for 3,000 years & can be visited. We'll have to go back for that since we didn't have time on this trip.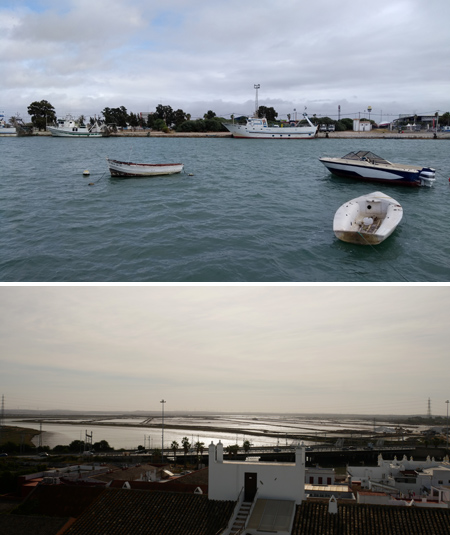 The Iglesia Mayor Prioral impresses with a mix of late Gothic & early Renaissance styles. Construction began at the end of the 1400s just before the first voyage of Columbus & continued over the next two centuries. Decoration & design point to the wealthiest period in El Puerto's history thanks to trade with the Americas. What a gorgeous façade:

No less stunning is El Puerto's private architecture. The Castillo de San Marcos grew from remnants of a post-conquista mosque back in 1264 & underwent major restoration in the 1940s. Although owned by a local winery, they still open the castle for visits. Of course Washington Irving stayed in town & surely enjoyed the hospitality of well-to-do families. Numerous palaces —some in better condition than others— dot the city center. They point to a time when the Cargadores a Indias, merchants with the Americas, possessed a monopoly on all trade with Spanish territory in the New World… a good lesson on how fortunes come & go. The old marketplace is an odd combo of discotheque/eatery today, but at least still serving a purpose: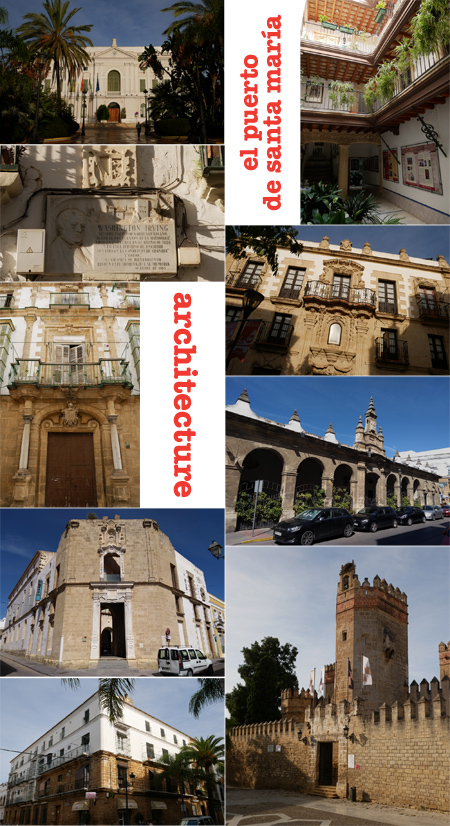 Even if you're not fond of churches or architecture, everyone's gotta eat. As the southernmost city of the Sherry triangle, El Puerto has a reputation for fantastic fino & brandy. Both large & small producers open their wineries for visits: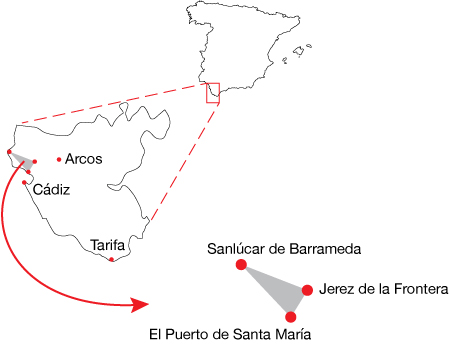 We began the morning at Bodegas Obregón —it's never too early for a glass of fino— with it's wonderful aroma of yeasty barrels, bullfighting decor & old-school crowd. Nothing fancy here, just excellent wine & atmosphere. After a stroll around town, we stopped next at Bar Gonzalo for some marinated carrots, grilled marrajo (mako shark) & perfectly-fried puntillitas (baby cuttlefish). Given its location along the Atlantic, seafood is obviously the specialty of El Puerto & goes perfect with fino or a local white from Forlong. Although full (and tipsy) by this point, we stopped for one last drink at the flagship tasting room for Bodegas Osborne. Beautiful facilities & another nice white, this one from their Montecillo line:

Although not a big draw for most tourists, that's precisely the reason to visit El Puerto de Santa María. The city has a traditional Andalucía vibe with friendly residents & spectacular food & wine only one hour from Sevilla. What's not to love? And don't forget the beaches!