At the risk of adding yet another cod recipe to this blog, I couldn't let Holy Week pass without presenting another of my favorites from Portugal: bolinhos de bacalhau. This traditional petisco (snack or appetizer) is great with beer when you're feeling peckish, at the beginning of a meal to ease an eager appetite, or several accompanied by a salad makes a meal. While traditionally fried, my version is baked but just as tasty… maybe that means you can indulge in an extra!
Bolinhos de bacalhau
400 g cod, desalted
a little less than 1 kg potatoes
1/3 onion, finely minced
large handful parsley, minced
1/2 T ground pepper
1/2 T garlic powder
1/2 t nutmeg
1 T salt
1 egg + 1 egg yolk
1/2 T potato starch, only if needed
olive oil, for either frying or baking
Step 1: Desalt cod at least 24 hours before cooking —just like bacalhau à Bras or bacalhau espiritual— by changing the water several times. These are also good made with leftover bits of cod not used for other recipes… or part of a bag that isn't enough for a main dish. Don't waste an expensive cut of codfish for these.
Step 2: Cook codfish in simmering water for 4-5 min (bay leaf optional). Small pieces cook very quickly, so don't get distracted. Remove cod & strain, but keep all cooking water for the next step! When cool, shread into small pieces. The key is to remove as much water as possible. Some people squeeze extra water out, but there probably won't be much left at this point.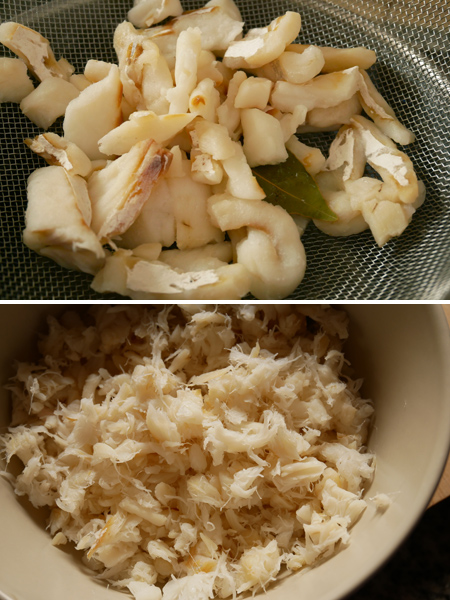 Step 3: Boil whole potatoes with skin on in the same water used to cook codfish. Larger potatoes may take over 25 minutes to cook. If you can insert a knife & it comes out with just a little resistance, then the potatoes are perfect. Don't worry if you overcook them… this recipe is very forgiving! When potatoes are cool enough to handle, remove skin & mash into a semi-smooth paste with the back of a fork. Again, you want as little water as possible.
Step 4: Bring everything together. Mix cod & potatoes by hand —because it's fun— and note that the mixture should be a little dry but stick together. Add all remaining ingredients (except potato starch) & continue to mix by hand. Taste for salt & spices. If your mixture is too moist, add potato starch… I doubt you'll need it, but starch helps absorb water & doesn't alter the flavor. Allow mixture to rest for at least 30 minutes. I prefer covering with plastic wrap & placing it in the fridge overnight. This really allows all the flavors to combine: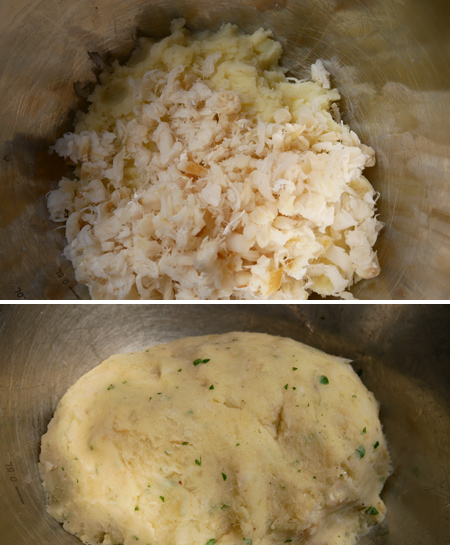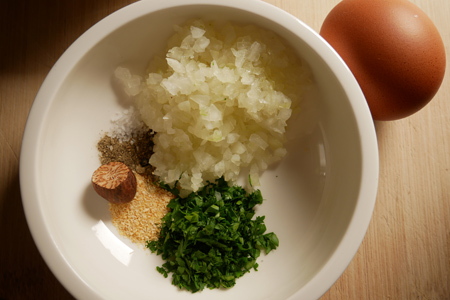 Step 5: Now you get to decide: bake or fry? If baking, preheat oven on broiler & set to 200ºC (400º F). Remove middle rack & place a piece of wax paper on top. A traditional way to shape these is by using two spoons to make quenelles… alternatively form potato/cod mixture into long shapes by hand. You do you. Place bolinhos on wax paper & dab (or spray) with a little olive oil. Bake for 8 minutes, flip over, add a touch more olive oil, & bake for another 5 minutes. Keep your oven rack in the middle position to control browning. They should firm up, turn golden & crisp outside but not dry inside.
If deep frying, place bolinhos in the fridge for about 20 minutes beforehand & bring oil to 190ºC (375ºF)… otherwise these will come apart! Look for the color you like, lighter is more traditional. I bet these would work great in an air fryer too. Someone let me know!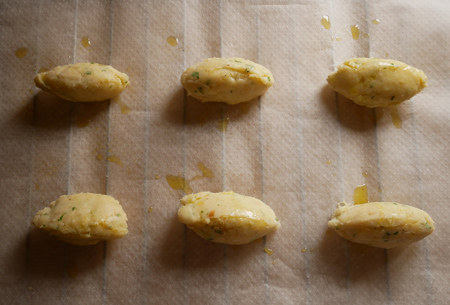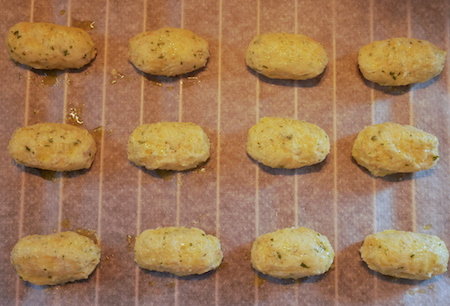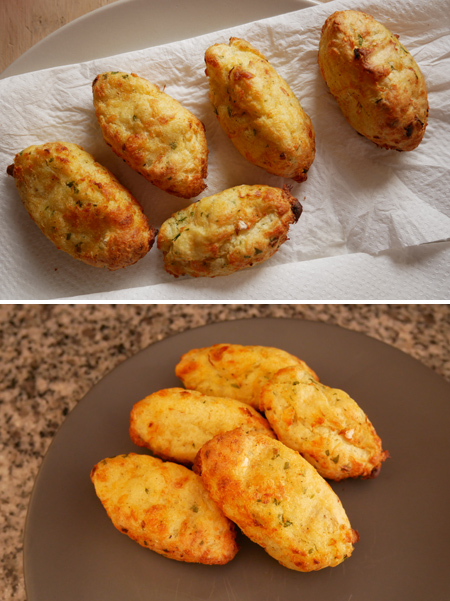 ---
This recipe makes about 30 bolinhos de bacalhau & can be easily be doubled. If you're going to take the time, you may as well make extra because these freeze very well. Shape each cod cake individually, freeze on a rack or plate, then transfer to a plastic bag or container. They'll need a little extra time in the oven without defrosting; 8 minutes, flipping, then 8 more minutes worked for me. Pop open a Sagres & enjoy! Bom apetite!