Last year I recognized the benefits of being unemployed… mainly the ability to start new projects. Although underestimating the sheer quantity of work involved, this vision has finally become a reality. Endless Mile guides are now available!

Jeff explains how we came up with the idea:
One evening in 2007 while sitting in Robert's apartment we dreamed about the best way of offering travelers the experience of a learning about a city's history: some type of portable device that supported multimedia. We envisioned standing in Plaza de Mayo, absorbing the sights, then pulling the device from a pocket and opening a black-and-white video of Evita speaking from the balcony of Casa Rosada…

A few years of waiting were needed for technology to catch up with this scenario for the tourist. That time is now with the advent of touch-based mobile computing. With Robert's extensive background as a tour guide and my knowledge of technology, joined by our shared passion for history and cultural heritage, we formed Endless Mile as a way of helping travelers experience their destinations in new ways.
Couldn't have said it better myself. One major benefit for me: I can still be a tour guide without having to travel as much. The content of my Buenos Aires guided walks can be purchased on this blog's main page. Many former tour members suggested I write a book & with Jeff's technical knowledge, we can make that content available for everyone.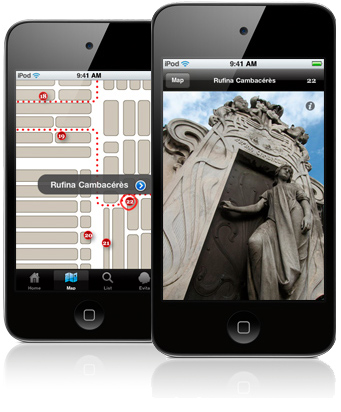 Naturally, our first app is a guided visit of Recoleta Cemetery. Blogging about the cemetery since 2007 at AfterLife, there are few people who have done as much research as I have, so it seemed a logical first choice.  Our second release —scheduled for next month— will be a map-based app of what we consider over 60 of the best domes in Buenos Aires. Later we'll focus on other historic & architectural walks in the city.
But that's not all… after we've covered Buenos Aires, we'll begin developing apps for European destinations. Next year, Darío & I will temporarily move to Lisboa from May to June during which time he'll continue Ph.D. studies & I'll begin researching for future releases. Spending a large portion of the past 12 years guiding in both countries, this also seems like the next logical step to increase our product base & deliver the same high-quality content: great photos, unique insight & an in-depth look at each destination.
As they say in Argentina: "Estoy chocho"… I'm exciterated 🙂
Update: After Jeff's swift departure from Endless Mile & a successful run in the iTunes store, the Recoleta Cemetery app was retired in Aug 2015. The Domes app unfortunately never saw the light of day… but a resulting PDF guide can be downloaded here for free, showing the location of 75 of the best examples in Buenos Aires.