Resigning from a company you've spent the past 11 years with can be unsettling… even if the time is right. After a long run with Rick Steves —first as a tour guide, then as a guidebook researcher & writer, & later a return to guiding tours— I recently said goodbye. It was a great company to work for & I'll miss several people, but I can't be sad for very long. There are just so many benefits to being unemployed.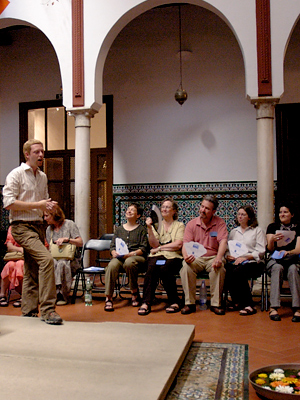 One of the most important rewards of not having to travel so much is the ability to invest my time where I want: steady workout sessions (no more one month on, three months off), reading (digging into the stack of Argentine classics, art history books, you name it), photography (itching to try a few new things), blogging regularly, catching up on pop culture (a few tv series, lots of movies, & general internet fun time… like playing Millipede on the Atari website!), cooking (in a Jamie Oliver mode now that I've downloaded all the shows & started baking again)… the list could go on & on. Basically time is on my side.
Another huge factor is that tomorrow I'm celebrating my one-year anniversary with Darío. I love that we've been able to keep up with each other around the world so far, but that can't last forever. It's crazy… in the last year we divided time between Patagonia & Buenos Aires, we spent my 40th birthday in Lisbon & in two weeks I'm off to England to see him there. Being a tour guide makes maintaining a serious relationship difficult, so I need to follow my heart. It's as simple as that.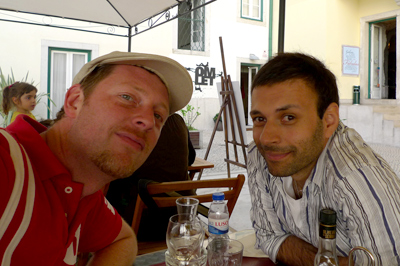 Of course, I'll need some income & hard economic times are good for starting businesses. So they say. Jeff, Cecilia & I have had similar ideas about tourism for several years & decided to collaborate on a project together: developing iPhone & iPod Touch travel apps. We're focusing on Buenos Aires first… Jeff will provide the programming & marketing, I'll be writing content & providing images, & Ceci will help with design. As a team, we're very optimistic about the response these apps will generate. I had an idea to do something similar many years ago, but the technology did not exist at the time. Seems like the perfect moment to do something new.
Our approach to travel is quite different from the mainstream. Jeff, Ceci & I strongly believe in researching original content & providing more than a simplified, basic overview of topics/sights. We're looking to target people who want their destination put into context. But more on our travel philosophy later…
We hope to have several apps for Buenos Aires finished by the end of 2011, then we'll select another destination. Because I know Spain & Portugal so well, that seems like the next logical step. In the meantime, our Recoleta Cemetery app is already shaping up nicely.
To be honest, I couldn't be more excited to be unemployed!