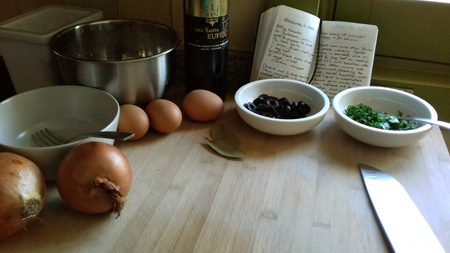 Classic recipes from any country have at least two things in common: an intensely debated origin & of course, several variations… everyone's grandmother obviously makes the best! Since my grandmother was not Portuguese, I draw on 20 years of travel to & eating in Portugal to make their classic comfort food at home. I promise this won't turn into a food blog, but I love to eat & cook so I wanted to share some of the dishes we regularly make.
Disclaimer: If you're looking for a traditional take for bacalhau à Bras, then read no further. The inspiration for this recipe comes from one of my favorite restaurants in Porto: Solar Moinho de Vento. Lucília Moreira has run the kitchen since 2002, & I've been a steady customer since at least 2014. I always look forward to the staff (many shared laughs), the stewed rabbit, the pataniscas & pretty much anything they want to serve. Last year, I finally took my husband there. We hit a Monday when their version of this dish is served (photo below), & I was blown away. I've never had this classic so good! It took me five tries at home to get it right, but I think the following recipe is a faithful reproduction.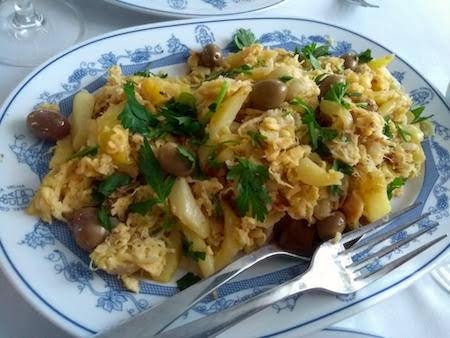 What's different though? A Bairro Alto tavern named after the owner (Bras, or sometimes written with a "z" as Braz) supposedly invented this dish, mainly with items already on hand. No one knows for sure when. But out of such simple ingredients & simple prep, a wonderful dish emerges… almost addictive. The traditional version calls for shoestring potatoes (batata palha) & parsley (salsa), but I use roasted potatoes, roasted garlic & cilantro… a slightly different flavor profile yet still super tasty. Let's do this.
Bacalhau à Bras
This isn't something to make at the last minute because the cod must be desalted. I use migas but just about any inexpensive cut will do. Change the water every so often, leaving it covered in the fridge for 1.5 to 2 days. I like to mix in a drizzle of olive oil at the end, but honestly who knows if that does any good or not? 😉
Begin by roasting potatoes. I've found by trial & error that short fries are ideal. The crispier, the better. Think about how crunchy shoestring potatoes are & try to get a little of that crunch. Also remember that the potatoes will soften up a bit as you add the egg, so err on the crispier side. I throw in a few unpeeled garlic cloves because, well, I love me some roasted garlic. Using roasted garlic adds another layer of flavor & also uses the heat of the oven. Two for one.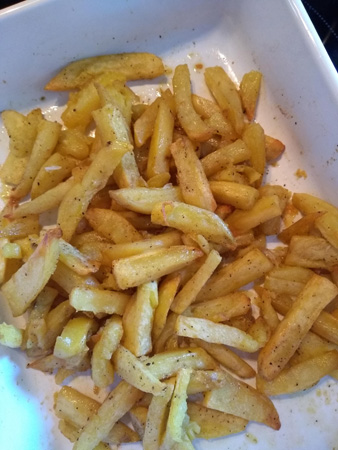 When the potatoes are a little past halfway done, begin main prep. Super easy. Julienne a medium to large onion & sauté on medium-low heat with a couple of bay leaves & salt. Use more olive oil than usual because the idea here is to confit, not carmelize. Low & slow. Often takes around 10-12 minutes.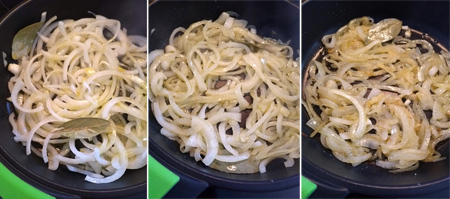 Next add the cod, drained & cut into small pieces. Keep the skillet on 5 or medium heat.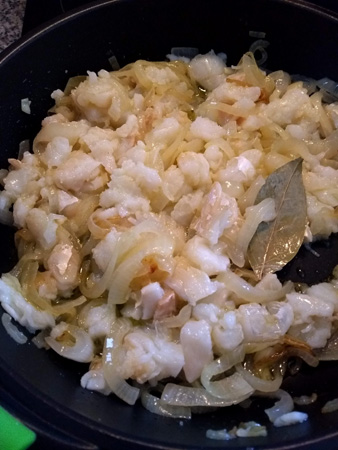 The potatoes should be done by now. Remove garlic cloves from the potatoes, squeeze out the garlic & add to the skillet. The roasted garlic should dissolve from the heat & blend into the mixture.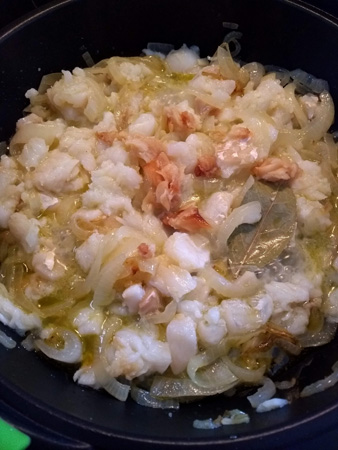 After a couple minutes, the cod will begin to release water & gelatin… that's what makes this dish so yummy. I usually let most of the water evaporate before adding the…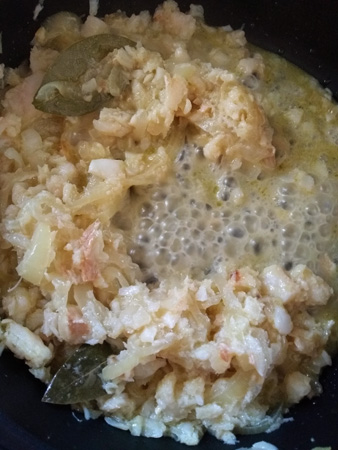 Roasted potatoes. Add as many as you like. Add any extra oil in the bottom of the roasting pan, & add those crispy bits stuck to the bottom. In fact, I love roasting a few extra potatoes so I'll have leftovers for a side dish later. But I'd aim for a 50:50 mix of potatoes & cod/onion.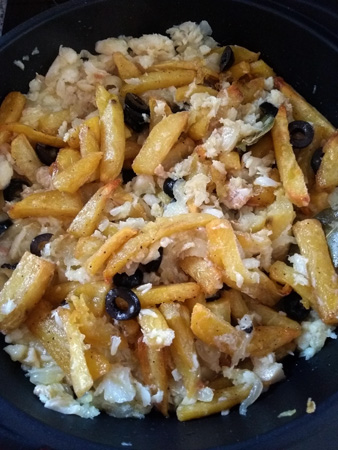 Here's the fun part. Have your 3 eggs already beaten & ready to go. I usually add most, if not all, to the skillet. Depends on your taste. The measurements for this recipe can be varied according to what you like, & that's another reason why it's so popular. Some people like their version a bit moist (eggs less cooked) & some like it browned (eggs fully cooked). At home, we're somewhere in between although I'm partial to those crispy bits. Aren't we all?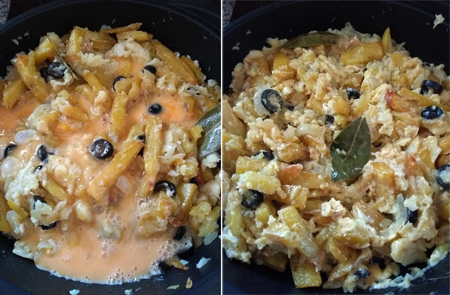 Serve & garnish with chopped cilantro. Enjoy!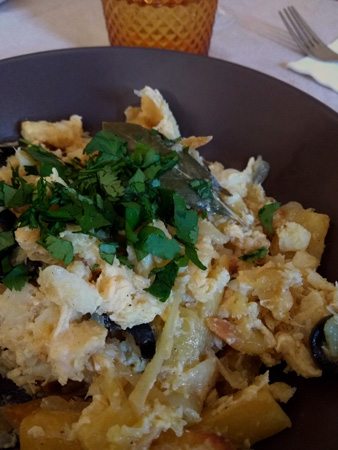 ---
I would have never attempted this dish at home if I hadn't into Solar Moinho de Vento so many years ago. Big thanks to them. While I love green olives, I think black work a little better here. And for all those readers who think I've marred their grandmother's star dish, give this a try. You might become a convert like I did!