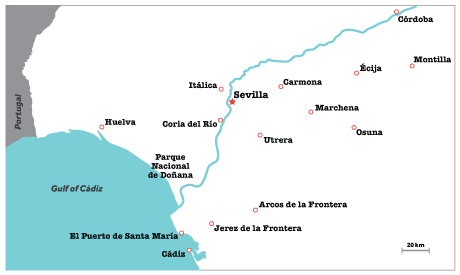 When I moved back to Spain in 2016, I resolved to visit all places near home in Sevilla —big or small— that I'd never had time to see during a work trip. Part of this ambitious plan also included re-visiting places I knew well but felt I needed to explore more… and write trip reports for this blog. Well, that was the plan. Life has a way of making plans go astray so… no time like the present to start.
This post will act as a placeholder for information about day trips from Sevilla, & my idea is to fill in the gaps over time. A general rule for inclusion on this list is that a destination can be reached by public transportation in two hours or less from Sevilla. Average train & bus times are listed below, along with a brief description of each place. Links will appear as posts are written:
Arcos de la Frontera – mid-size pueblo blanco defiantly perched on a cliff above the Guadalete River (🚂 none, 🚌 1.25 hrs via Jerez)
Cádiz – Phoenician settlement on an isthmus, surrounded by water & 18th-century fortifications (🚂 1.5 hrs, 🚌 45 min)
Carmona – Tartessian/Roman town with a well-preserved necropolis (🚂 none, 🚌 30 min)
Córdoba – 8th-century mosque with a cathedral in the middle, pretty patios + gastronomic treats galore (🚂 45 min, 🚌 1.25 hrs)
Coria del Río – site of 17th-century diplomatic mission from Japan + the home of Blas Infante, father of modern-day Andalucía (🚂 none, 🚌 45 min)
Écija – Baroque bell towers around every corner & stunning Roman mosaics (🚂 none, 🚌 1.25 hrs)
Huelva – port city famous for housing World War II spies (🚂 1.5 hrs, 🚌 1.5 hrs)
Itálica – Roman military retirement city with the largest amphitheater outside of Rome (🚂 none, 🚌 20 min)
Jerez de la Frontera – tasty sherry & graceful PRE horses (🚂 1 hr, 🚌 1.75 min)
Marchena – fortified town with a collection of paintings by Zurbarán (🚂 1.5 hrs, 🚌 1.5 hrs)
Montilla – birthplace of the crianza-solera winemaking process (🚂 45 min + 🚌 45 min)
Osuna – important dukedom with royal residences & a stunning family pantheon (🚂 1.5 hrs, 🚌 1.5 hrs)
El Puerto de Santa María – palaces built with fortunes made from commerce with the Americas, seafood & lots o' fino (🚂 70 min + 🚌 1.5 hrs)
Utrera – agricultural town with a castle, church bell ringers & palatial room inspired by the Alhambra (🚂 30 min, 🚌 40 min)
Sevilla has so much to see, & many people stick to big city monuments; small towns are often overlooked, whether due to lack of time or lack of knowledge. Most visitors to Spain consider Madrid as a hub for nearby sights (like Segovia, Toledo & El Escorial), but Sevilla doesn't get the same recognition… hopefully this series of posts will help change that. Keep in mind that the map & listings above are a work in progress. I have lots of writing to do!