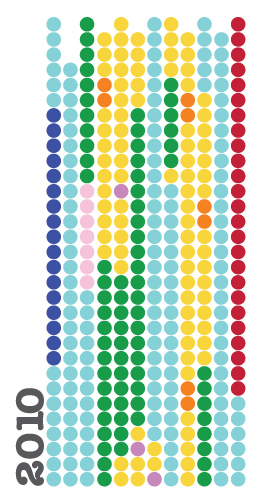 ● Where was I?

Argentina

,

USA

,

Colombia

,

Portugal

,

Spain

,

Morocco

,

France

&

UK

.
Better late than never, right? Regular readers know that I'm big on resolutions for the new year, making lists, and love ticking off completed items. While I definitely have goals to accomplish in 2011, I've decided to stop being so rigid about it. I'm taking the pressure off by not publishing them here. Instead, I'd like to go over 2010… it was a whirlwind year, & I apologize for not blogging more regularly. As my schedule demonstrates, it was physically impossible. 2010 was probably the year I've most traveled in my life… & that's saying something:
---
JAN – Brought in the new year with Darío in Villa La Angostura, nice to know I could feel that happy again in a relationship, fun work meetings & first visit back to Seattle in five years, uncertain about income because schedules won't be given until March. Uncertain year for work in general with low tour signups.
FEB – Trip to Esquel to spend a couple weeks with Darío, he received a partial grant to do a Ph.D. in the UK, prepping for new tours & deciding where I'll spend my days off.
MAR – IRS hell, wrapped up the AfterLife blog, began to tweet, packed like crazy because I'm guessing I'll be gone until July, brought this blog back to life, a trip to Bogotá with Darío, worst airport experience ever in Caracas, settled in to a wonderful apartment in Lisboa, received spring work schedule a couple weeks before the first tour starts.
APR – Study, study, study. First Spain-Morocco tour of the year & with an assistant! Went much better than expected for a first-run & spent most of my free time writing notes for other guides doing the same tour after me.
MAY – First ever Portugal tour for Rick Steves. Few people & a few kinks to work out but generally good. Very nice Basque Country tour afterward, followed by a week of research in Bilbao.
JUN – Basque tour #2 then one week off to prep for a solo Portugal tour. Absolutely the worst group I've ever had. Ever. Don't ask… no need to think about that trip ever again. Portugal interview premieres on NPR. Ended the month with a fantastic group for Basque tour #3. Received autumn work schedule.
JUL – Back to Buenos Aires! Darío in town for a three-week visit & some rocky times.
AUG – Trying to recover from an already difficult year… & prepping for 3 Spain-Morocco tours almost back to back. And fix what I goofed up with Darío. Published 12-part series about an electric company in Buenos Aires.
SEP – Work, work, work. Decided to turn in my resignation after 11 years with Rick Steves. First tour fantastic, second tour ok… except a horrible bus driver, a general strike in Spain & a gazillion other things going on in the background.
OCT – Birthday week in Lisboa with Darío!!! Turned 40 & one of my best birthdays ever. Last tour with ETBD & training yet another assistant. Arrived home on census day & ex-President Kirchner dies.
NOV – Digging in on developing apps for the iPhone/iPod touch. Quick trip to Mar del Sur. First anniversary with Darío… although he was in the UK.
DEC – Decided to renew my lease next year instead of buy an apartment in Buenos Aires. Not the right time. Trip to the UK to see Darío, visiting Scotland & Manchester with New Year's Eve in London… again with Darío. Life is good.

The incredible thing is that I was only at home for under 40% of the year. 122 days in Buenos Aires… that's it. No wonder I still don't have curtains hanging or decent living room furniture. But I'm working on it. With all there is to do in 2011, surprisingly enough I feel very positive about it. I wish everyone a great new year… great things are in store!