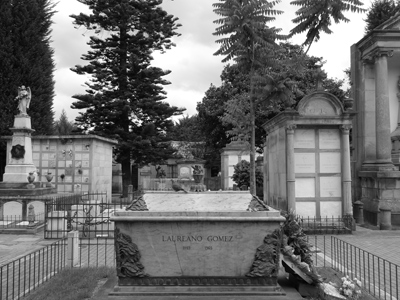 King Carlos III of Spain declared burials inside or beside churches illegal in 1787, but the American colonies waited awhile to implement those new rules. Old habits are hard to break. Buenos Aires opened Recoleta Cemetery in 1822, but Bogotá inaugurated their first public cemetery much earlier in 1791. The same plan for that first cemetery was used for the layout of the Cementerio Central, opening in 1825.
In addition to being the burial place for the British who helped fight for Colombian independence, the Who's Who of local society began building monuments to their families. Divided into three sectors called globes –a word which usually means "balloons"– with the better spots near the main entrance, the cemetery grew in status. Their terminology likely had to do with the fanciest part bounded by an oval of niches… a big balloon of space.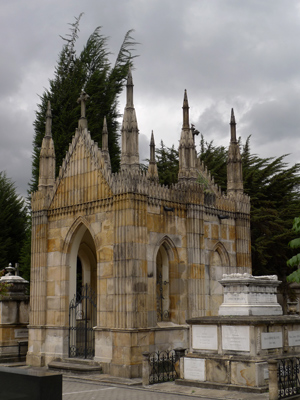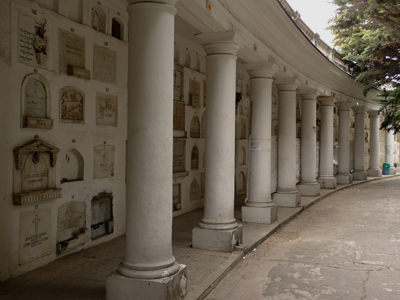 Since 1984, the oval which constitutes Globo A was declared a national historic monument (all the photos in this post). Globo B still exists & is used for anyone who desires to be buried there. Globo C was recently put to another use by the city government, converted into a public green space in the year 2000. The construction of Parque El Renacimiento required the demoliton of several mausoleums… controversial because the area contained about 4,000 victims of the 1948 Bogotazo. Search for the cemetery on Google Maps for a bird's-eye view of all three areas.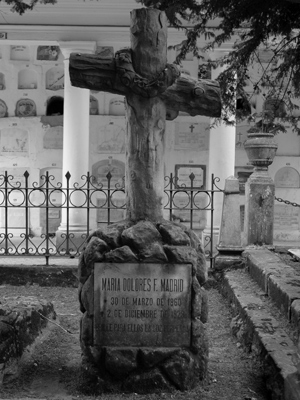 As somewhat of an expert, the Cementerio Central has nothing on Recoleta Cemetery… my sincere apologies to locals. With Bogotá as one of three major colonial capitals in South America, I'd hoped for more but it was a beautiful place nevertheless. One of the most important political figures buried there is Francisco de Paula Santander, who served as the 2nd Vice-President & 4th President of Nueva Granada (proto-Colombia):
The most interesting tomb belongs to Leo Siegfried Kopp. Born in Offenbach in 1858, Kopp's family immigrated to Colombia in 1886. He established the largest brewery in Bogotá & was known for his Masonic membership. Kopp was even attacked for being Jewish in the early 1900's & died in 1927. The brewery was confiscated in 1943 after declaring war on Nazi Germany. But while Kopp was alive, he was known for being kind & generous not only to his employees but also to anyone who asked for help. These days, in spite of being practicing Catholics, many bogotanos go to Kopp's tomb, step up to the statue (by Spanish Art Deco genius Victorio Macho), & whisper their wish in his ear. Supposedly many wishes are granted… enough to make Kopp's crypt the most visited: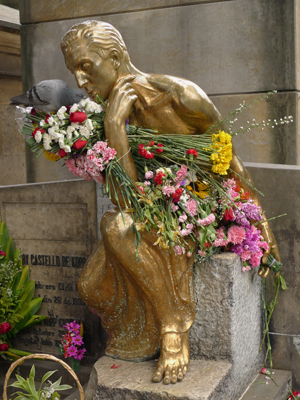 Tip: If you'd like to take photos inside the cemetery, be sure to bring your passport & go to the admin office first. The security guard with the large rifle will kindly ask you to do so 🙂 Two identical forms are filled out, in Spanish, but there's no fee. And as long as pics are for personal use, there's no problem.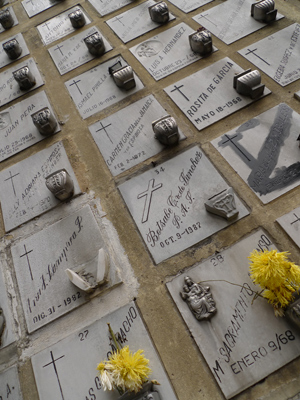 ---
Bogotá series: First impressions • Architecture • Main museums • Cementerio Central