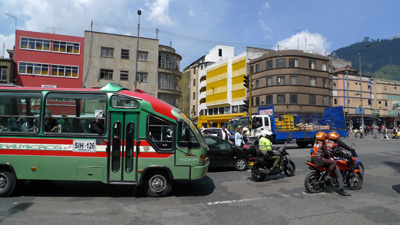 The Colombian capital evidently receives little tourism —odd since bogotanos are ultra friendly, the city sits in a privileged spot, the food is excellent, public transportation is easy & it's an active & vibrant place. After seven days I felt I'd seen a good portion of the city, but there's definitely more to explore for a second visit.
My trip consisted in exploring the 80 blocks between the colonial quarter of La Candelaria & Calle 95. After a few days, the altitude seemed to get to me… at least I'm guessing that's why I felt so fatigued even after sleeping well. But I did a lot of walking regardless of being at 2,640 m above sea level. That elevation makes Bogotá one of the top ten highest world capitals. And there are still higher mountains running along the city's eastern edge!
The coat-of-arms for Bogotá dates back to Spanish rule when it was capital of a region called Nueva Granada, including what is now Panama, Ecuador & Venezuela. Being an Iberophile, I immediately recognized the granada (pomegranate) taken from the lower section of the Spanish coat-of-arms: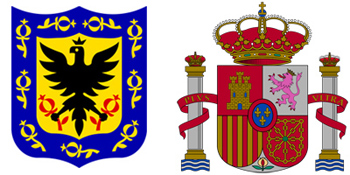 During the day, lots of people are out & about. I knew Bogotá would be busy, but I wasn't prepared for the large number of people on the streets. According to Isabel Arteaga Arredondo, the expansion of Bogotá in both area & population was due to rural violence in the 1950's-60's & economic growth based on industrialization. The city burst at the seams & is now trying to incorporate shantytowns & other low-income districts. But at almost 8 million people, city officials are still trying to catch up: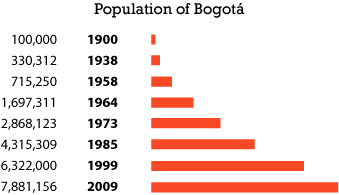 Regardless of its rapid expansion, Bogotá seemed remarkably clean. Sidewalks were in need of major repair & quite a number of buildings were neglected, but the city itself was impeccable. We only took a couple of the ubiquitous lemon yellow taxis (cheap, fun & clean as well) as most of our transportation was on the Transmilenio: bus service using dedicated lanes (two each way) with stations in the middle of the avenues. Although the schedules are confusing at first & lines for tickets can be long, service is quick & once again, the buses are amazingly clean. Buenos Aires could learn a lot from Bogotá: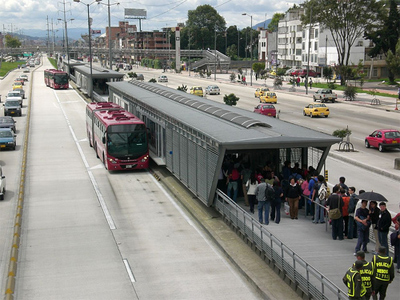 After living so long in Argentina, the formality of Spanish in Bogotá was a nice change. Even Spain isn't as formal these days. The norm was to address others with Usted, the response to "thank you" is a hearty con mucho gusto or "with pleasure," & the most common reply to goodbye is "que esté bien" or "que tenga un buen día"… I wish you well or have a nice day. Super polite. Darío & I tried joking with people in hotels, restaurants, museums, etc. but they didn't play along. It didn't seem like they were used to that kind of interaction, pero todo bien.
One of the highlights of the trip was the food. I've never seen people eat so much fruit anywhere. The papaya was the best I've ever had, & the variety of fruit juices was paradise. Arepas (corn flour pancakes) will definitely become part of my diet when I'm back in Buenos Aires. And yes, the coffee really does taste amazing. Juan Valdez cafés dot the city like Starbucks –minus the mule– but there are plenty of other options for caffeine. And panela (basically unrefined sugarcane) rocks.
---
Bogotá series: First impressions • Architecture • Main museums • Cementerio Central.
Transmilenio image courtesy of Interlinked Climate & Energy Challenges.