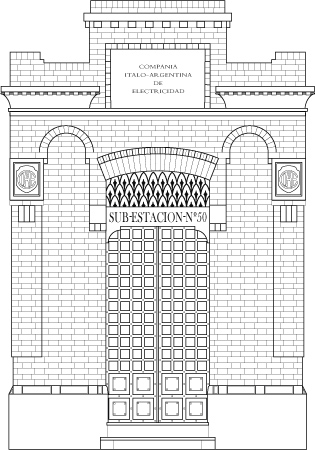 With financial needs met, a concession from Buenos Aires granted & service scheduled to begin in 1914, Carosio hired Juan Chiogna to build fantastic covers for CIAE generators & substations. Reminding passersby of Medieval Italy, these eye-catching structures only served as decorative shells to house large machinery, spare equipment & cables. Local architects term the style "Lombardy Romanesque" likely due to an early reference found in La Nacion newspaper in 1916:
"[Chiogna] introduced a new twist with true artistic style to the monotonous industrial architecture in our midst. Disdaining the warehouse, abandoning the naked & heavy profiles of common factories, he housed industrial life in buildings whose severity was harmonized with stylish beauty. He chose Lombardy style, [like] the Milan castle of the Sforza family, but modernized. Clearly the effort of adapting it to industrial architecture was a personal achievement of Chiogna & deserving of praise."
Instead of Lombardy Romanesque, a more correct categorization would be Romanesque Revival. Similar architecture of the same period can be found throughout northern Italy, especially in the neighboring regions of the Veneto & Piedmont. The beginning of the 20th century witnessed several architectural movements –from Art Nouveau to numerous regional revival styles– and CIAE buildings fall within that general revival category.
Unfortunately no biographical information can be found about Chiogna; incredibly enough, no one seems to care about where he was born, where he studied, if he returned to Italy or stayed in Argentina, or where he died. His style is strikingly similar to that of Cecilio Arpesani, responsible for the 1906 Palazzo Gonzaga di Vescovado in Milan [first photo below]. Original Romanesque-era inspirations for Chiogna were many: the Sforza Castle in Milan as previously mentioned, the Palazzo Vecchio in Florence, the Palazzo Sforza Colleoni in the Veneto & the entrance towers of the Arsanale or a recycled residence in Venice [photos below, each linked to its source if known].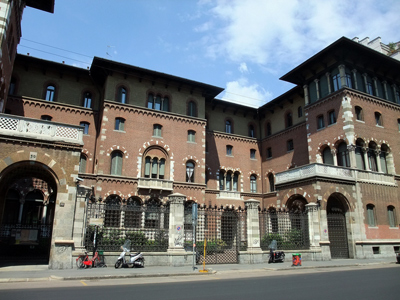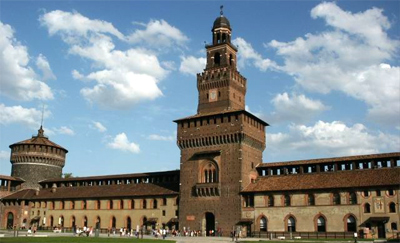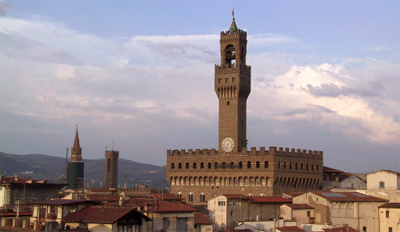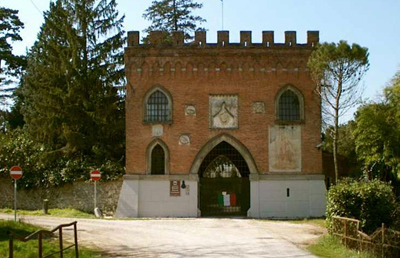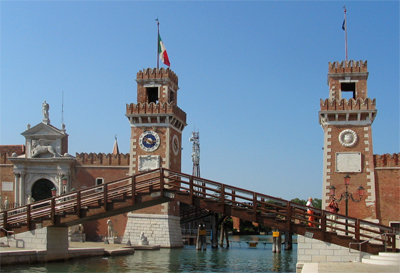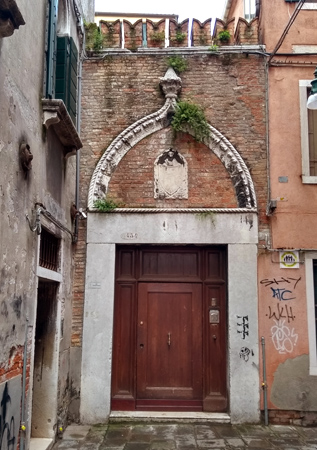 Chiogna used a set of standardized elements, adding or subtracting parts based on the building's function & size… the versatility of Chiogna's mix-and-match set is genius, especially because his structures are not as repetitive as they could have been. Combinations were based on the following:
Brickwork façade with a cement base. Stone was used occasionally as decoration just above the base: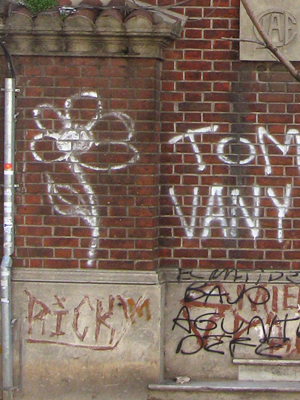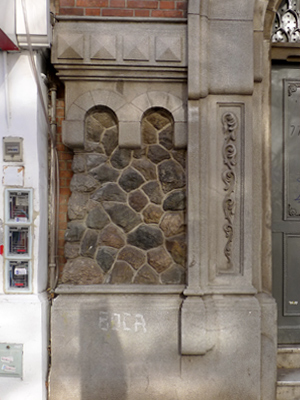 Company name highly visible, either engraved in concrete or with affixed letters. Two main fonts were used –a simple all-caps serif or a fanciful, curly serif: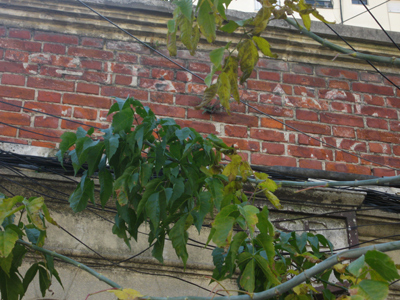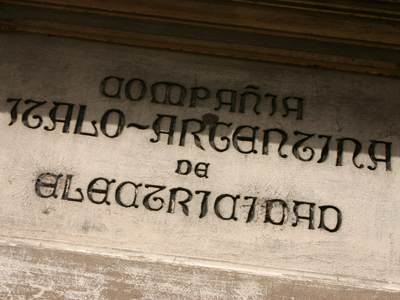 Repetitive, round arches occasionally paired with small columns: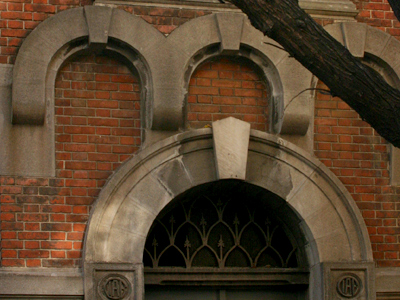 Coats-of-arms either with or without the company logo: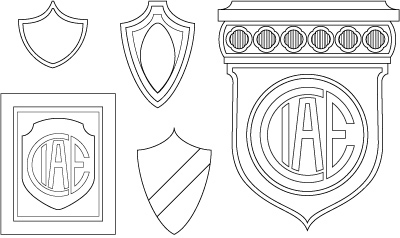 Nebule molding beneath the parapet: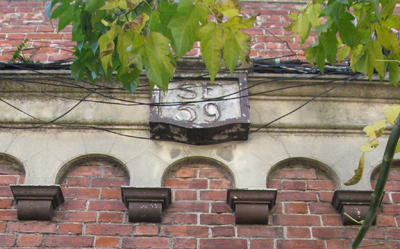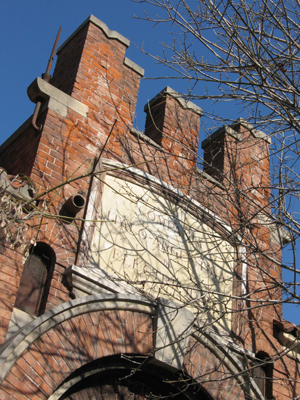 Towers which grow larger on the top, sometimes with a clock or sundial: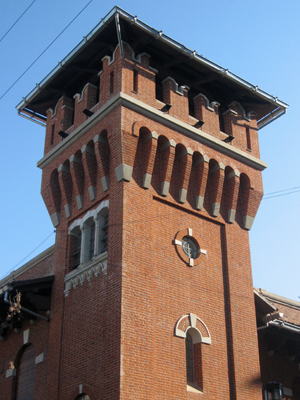 Wrought iron used for grillwork, gates & decorative lamps: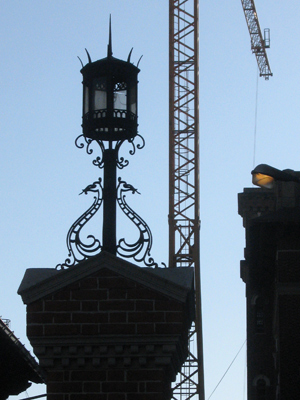 Special tilework with the company logo in dark purple: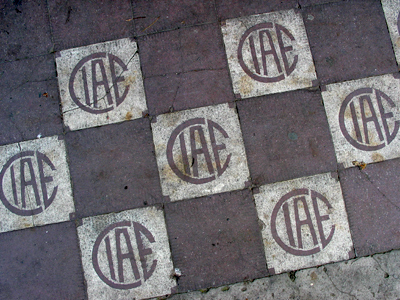 Update (11 Jun 2012): During a recent trip to Milan, I was able to check out more possible influences for the CIAE's characteristic style. Surprisingly, no current CIAE literature mentions the Palazzo Viviani Cova by Adolfo Coppedè. Built from 1910-1915, Chiogna must have known about this contemporary structure… it's as if Coppedè & Chiogna had the same mindset: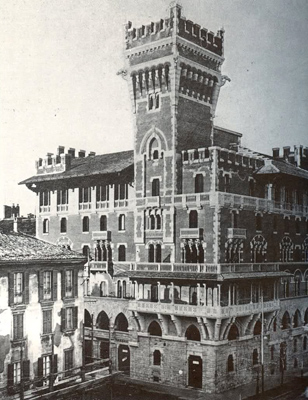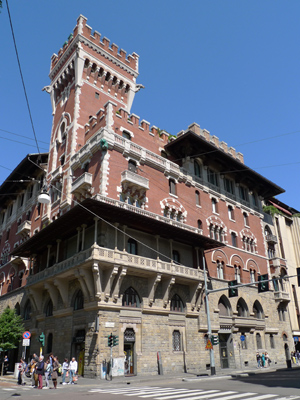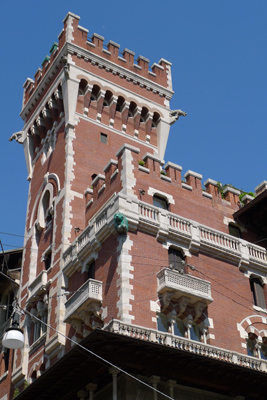 ---
CIAE series: Electricity timeline • Precedent & foundation • Swiss holding companies • Architecture 1 2 3 4 • Expansion • Scandal • Fade to black • Building list • Bibliography