No sooner had we arrived in Lisbon & Darío wanted to go to Italy… to buy shirts. Love it. He presented the idea as: "Want to go Rome? I'll pay for the plane ticket & the hotel." How could I deny an offer like that? But flights didn't work for the weekend he wanted, so I suggested Milan. I hadn't been in about 10 years, plus it's a world fashion capital. Suddenly we were off to Italy in May.
Day 0
A late departure from Lisbon = really late arrival in Malpensa. Add to that a 40-minute bus ride into the city. But we were in bed by 01:00… fine since we were still on Portugal time.
Day 1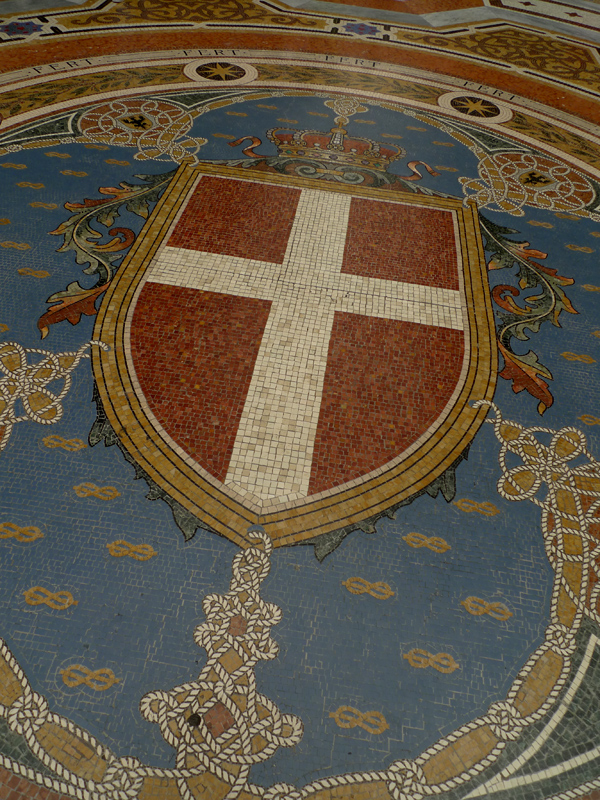 The loft apartment was very nice but had zero amenities. No soap, no coffee, niente. We left asap to get breakfast & shop. After a tasty latte macchiato (steamed milk served separately from the espresso, of course), Darío managed to find everything he wanted. From then on, the trip was up to me 🙂 Prices seemed a little more expensive than I remembered, then again we were in the most touristy part of town.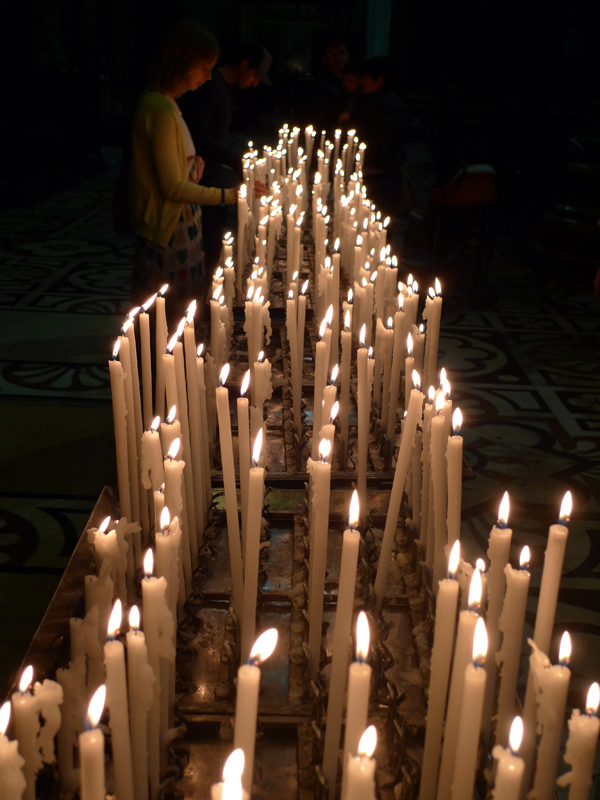 We entered the Duomo briefly & immediately I thought: this is why I had no recollection of the interior… it's unremarkable compared to all the exterior decoration. Harsh lighting, oddly hung paintings & little restoration fail to do it justice. But what incredible doors…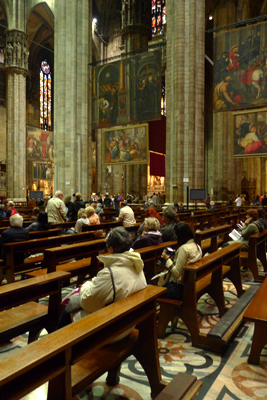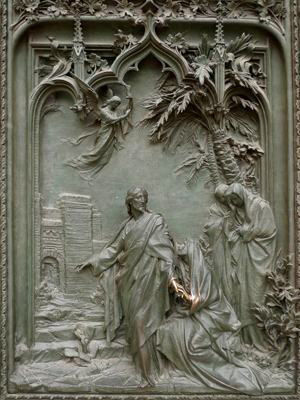 As we stepped outside, the skies let loose… a theme for most of the trip. Since I wanted to see the Museo del Novecento —catacorner from the Duomo— that was the best escape from the rain. With a very nice collection of mainly local Milan artists, I was thrilled to see a few more from De Chirico & a sculpture by Umberto Boccioni. Great views of the Duomo aside, one of the best pieces was Coma by Alexander Brodsky: an unbaked clay cityscape (representative of Moscow) slowly flooded with motor oil. Buildings absorbed the oil & the smell was powerful… a modern version of Venice 🙂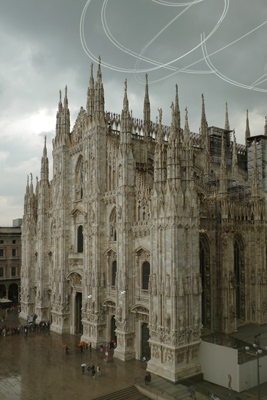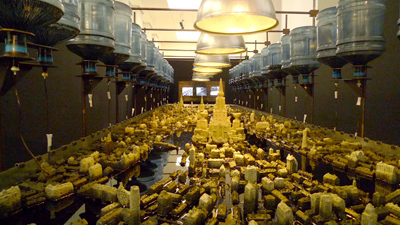 Time for lunch with rain, rain & more rain. The initial panini of ham, camembert & roasted artichokes led to another of bressola & rocket. Later, we admired the Torre Velasco, found the remnants of San Giovanni en Conca, then managed to get lost somewhere around Via Torino. We spent the afternoon finding our way back to the subway, getting soaked & stocking up at the supermarket… naturally it began to hail as we were leaving. But with such great architecture, who cares about the weather?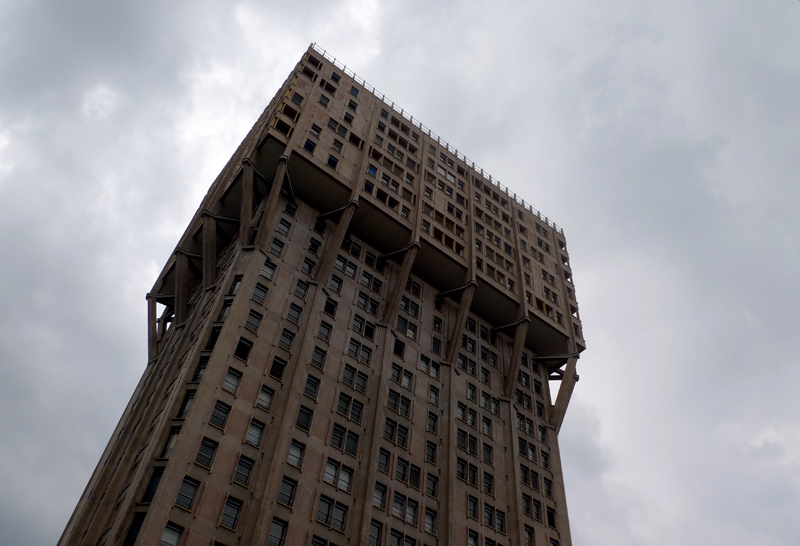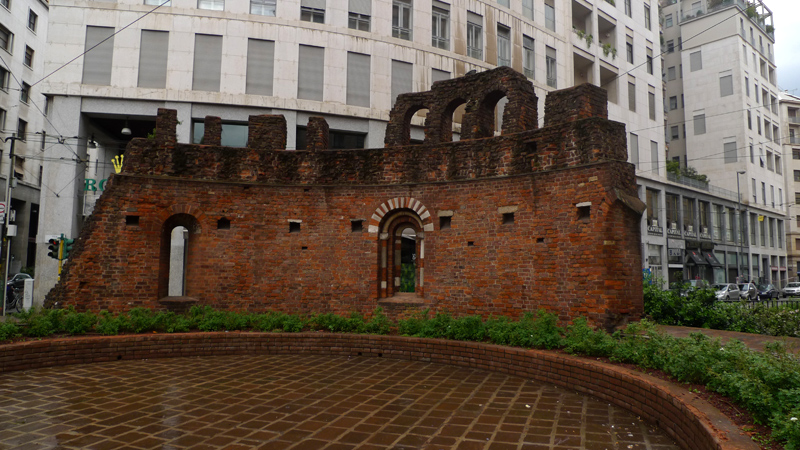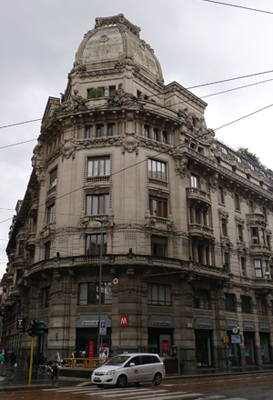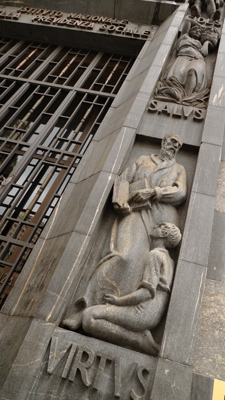 Day 2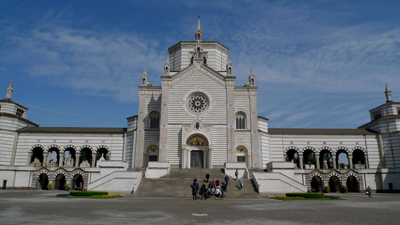 Since the Cemitero Monumentale would be closed all day Monday, I woke up with a now-or-never feeling. Luckily the sun managed to shine most of the morning. I'd originally planned on going to Staglieno by train, but after reading about Milan's major cemetery I couldn't resist a visit. Five minutes in, it was impossible to contain my excitement.. I left to meet Darío for lunch on an absolute high. After all, I'd seen the tomb of Mario Palanti! Click here for my photos of the cemetery.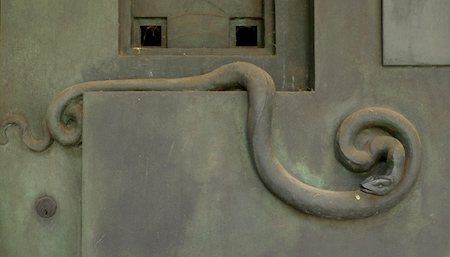 Failing to find the gathering place for people dressed as Japanese anime characters, we stumbled upon the best meal of the trip: lasagna verde, eggplant parmesan & onion potatoes. Only when we got the check did I realize we were at Princi… a chain of popular eateries that I'd wanted to visit.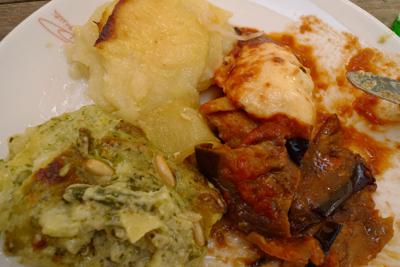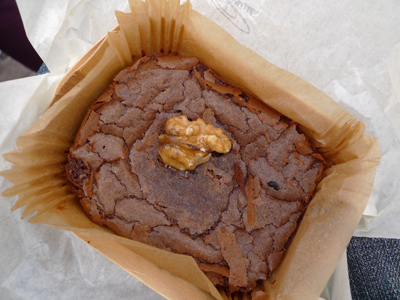 We walked to Castello Sforza where I ate a brownie bought from Princi. Delish but mine are better… although not as nicely packaged 😉 Visiting the castle was a great opportunity for me to see one of the inspirations for Giovanni Chiogna's CIAE work. Then strolling through Parco Sempione, Darío saw someone on a Segway… so he wanted to try it. I'd always made fun of Segways but there was no escape. Funny thing was that after 30 minutes (15€) of zipping around the Arco della Pace, I wanted more. Ok, I wasn't prepared to pay 30€ for tanta pavada, but it was a lot more fun than I'd expected. We had a quick drink nearby & headed back to the apartment. It began to rain again, & I was absolutely beat. What a day.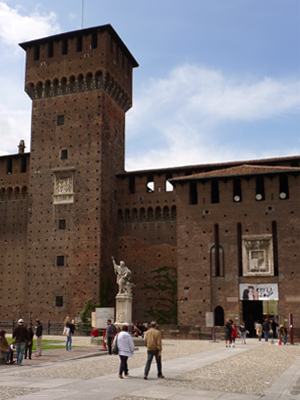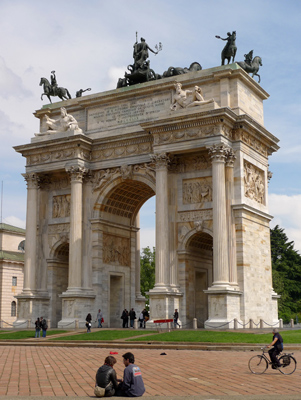 Day 3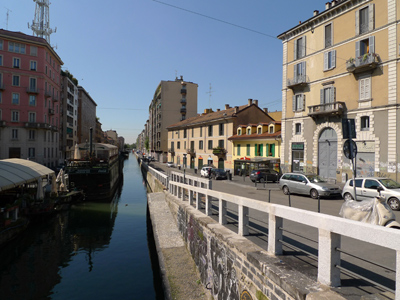 The rain finally disappeared! We decided to take our single suitcase with us & headed to Navigli. Of the little research I'd done before leaving, one guidebook said that the remains of the Three Kings were in the Basilica di Sant'Eustogio. Unfortunately the writers never bothered to confirm details… I arrived 8 centuries too late. When Frederick I became King of Italy in 1155, he supposedly transferred their remains to Cologne. Important religious figures aside, the basilica was gorgeous & seeing the Paleo-Christian remains of the original church (constructed either in the 300s or the 500s) was good enough for me.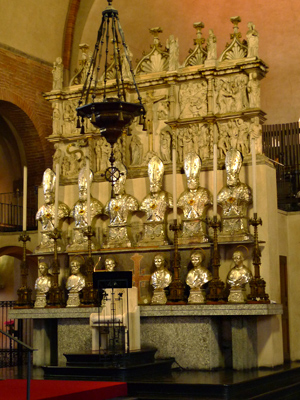 Next stop: the Basilica di Sant'Ambrogio… a gorgeous, Romanesque construction built on Roman ruins, decorated with 13th-century frescos, chapels with museum-quality statues & three saints on display: Ambrogio, Gervasio & Protasio (Ambrose, Gervasius & Protasius). Incredible.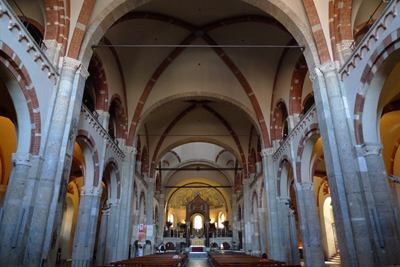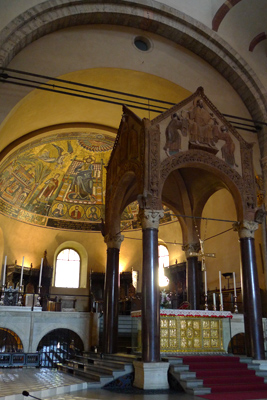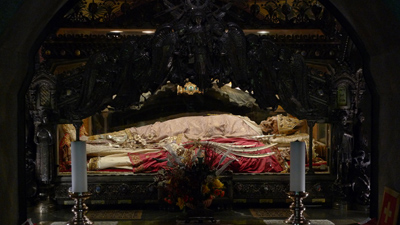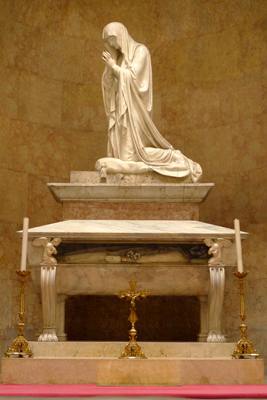 Nearby, the Palazzo Viviani Cova by Adolfo Coppedè blew me away. Built in the 1910s, all I could see was how similar this building is to the CIAE buildings by Chiogna. Same time frame, same style. And just down the street was the Palazzo Gonzaga di Vescovado by Cecilio Arpesani… again, same time frame & style.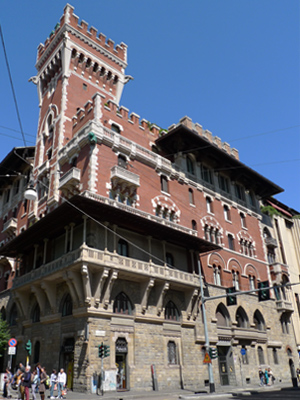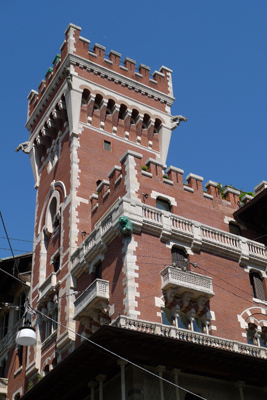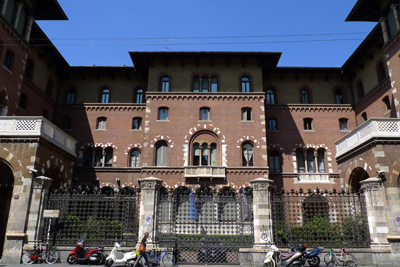 Suddenly while riding the tram, I'd remembered one Milan building I'd been dying to see. Near Corso Buenos Aires, the Casa Galimberti has a façade covered in painted tiles & intricate balcony ironwork. My reason for going: the artist who painted those tiles also painted a set for an Art Nouveau building in Buenos Aires (at Paraguay 1328). Thankfully I remembered before leaving Milan! Another wow moment.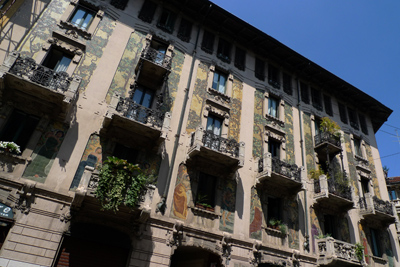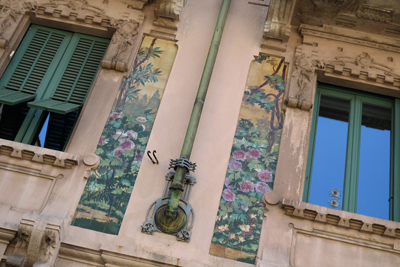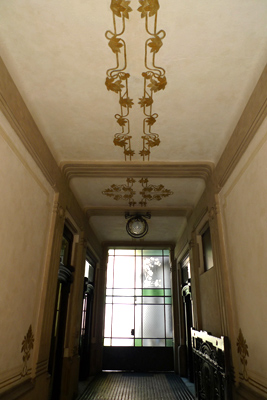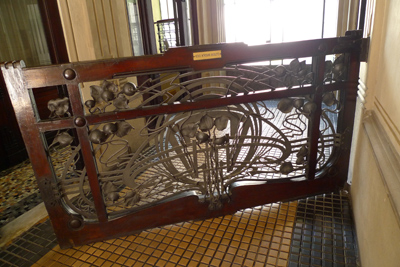 Ursula didn't get out much because of frequent rain, but she's been to one more city!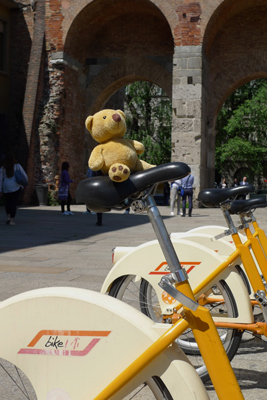 General impressions
Given that Milan is the second largest city in Italy & a major financial center, I expected to see more signs of the € crisis. Not so visible.
When we spoke in argentino-italiano, no one answered in English, Spanish or any other language. I liked that. Darío thought that it might be because they knew we would understand them. But I thought it was because they just didn't care… we had to make the effort & that was that. Either way, it was nice.
There was more interesting architecture than I expected to find. When I guided in Milan on tour, we stopped for lunch in the main square & that was about it. There's much more that deserves to be seen… I guess I've found another destination to investigate & write about 🙂
Food was fantastic. Even after weeding out mass-produced foods at the supermarket, there were so many goodies to choose from. Made me think about the eminent return to Argentina & the current ban on imports :-/