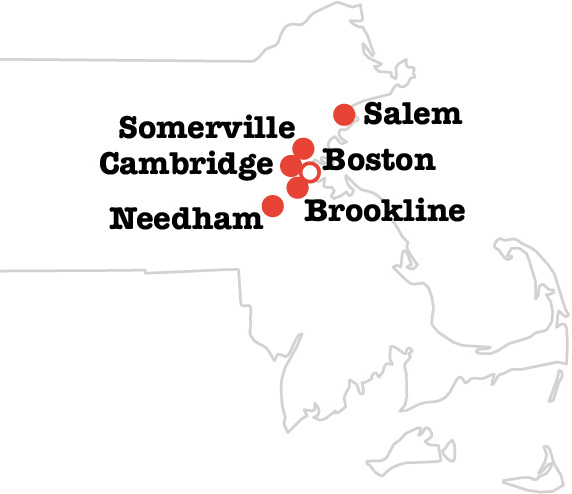 At the beginning of our trip to Boston, we had a difficult time keeping city limits straight. Fantastic public transportation that seamlessly covers the entire area had us asking ourselves: is this a Boston neighborhood or is it a separate city? I think we have it figured out now 😉
Let's continue the visit by city…
Brookline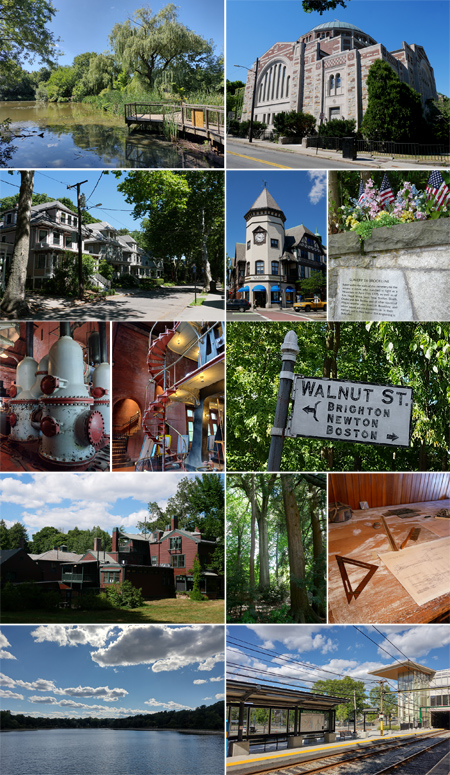 Brookline had sooooo many interesting things to see, & we probably only hit half of them. Beginning the morning at Hall's Pond Sanctuary couldn't have been more romantic, as was strolling through the old Kennedy family neighborhood (even thought the JFK birth house is closed for renovation). After seeing giant pumping machinery at the Metropolitan Waterworks Museum, we made our way over to the Old Burying Ground & the Frederick Law Olmsted house & office for a picnic lunch. Loved sitting in the library reading books about all the parks he & his descendants planned!
Framingham & Needham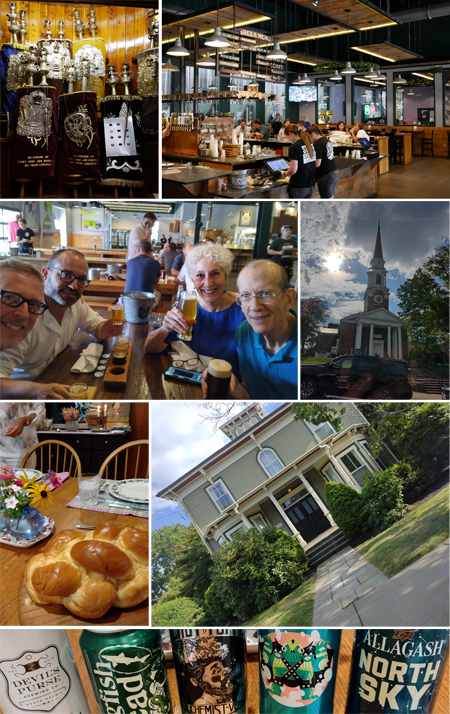 One of the best days of our entire trip! Bonnie & Herb had been on a Portugal tour I guided in 2018 & had stayed in touch throughout the pandemic. A few months ago I remembered that they lived in the area & asked if they could get together. Of course! They picked us up in downtown, & we saw so much: driving by Jamaica Plain, Wellesley & its castle-like city hall, their temple & a wonderful lunch at Jack's Abby in Framingham. But the best was Shabbat dinner at their home with two more tour members from that same trip, Sue & Gary. What a treat, what hospitality & what a wonderful time! Thanks so much!!! Hope to see you in Andalucía next year!
Cambridge

Our hotel was located by the Kendall MIT stop, so we had plenty of opportunity to wander through Cambridge… a city that we both loved immediately. Gorgeous views of Boston from the Charles River, stunning modern architecture in & around MIT (unfortunately all buildings off-limits due to COVID restrictions), lovely residential areas & of course Harvard University:
While Harvard academic buildings & the library are closed to the general public, we went to all five museums on campus. Amazing collections. The grounds are charming, & we couldn't imagine how busy the yard must be when students are in class. Rafa planned a special treat as well, to be on campus during the few brief hours Adolphus Busch Hall is open to visit. Oh, those 1935 Rubenstein murals!
Somerville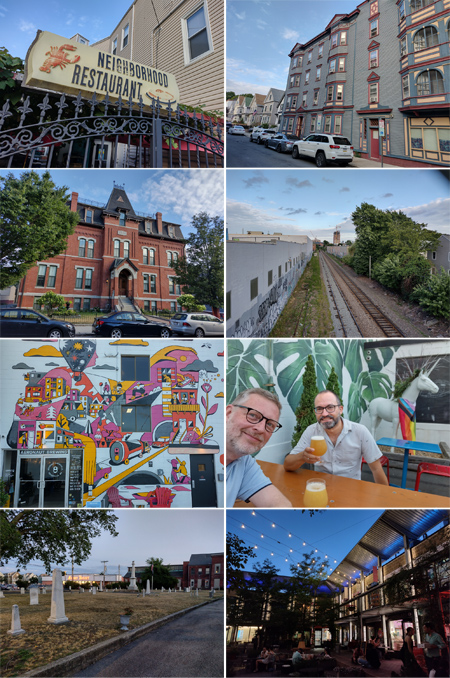 We only went twice to Somerville, but I could have gone every day. When we first walked around the city, I immediately got a 1990s Seattle vibe: comfy, friendly & very livable. We mainly went to visit three different breweries (see below), but I could see us basing our next visit to Boston from there.
Salem

I'll admit it. When Rafa insisted we visit Salem, I begrudgingly agreed. Did I care about the witch trials in 1692? Not so much. But I love that my initial opinions about the city were proved wrong. Once we got past the hawky, touristy area, the real Salem emerged with beautiful architecture & more colonial houses than we ever imagined. But I spent most of the day inside the Peabody Essex Museum, easily one of the nicest museums I've ever seen… & you know that's saying something. The temp exhibit about 1980's fashion icon Patrick Kelly made me feel incredible! We snuck up to Beverly for lunch, then rode the train back to Boston exhausted & content.
Concord
By this point I'd had enough of the heat & humidity, so I opted out of the day trip to Concord. Rafa went & had a blast, but I decided to go shopping instead. Hey, I needed work clothes & couldn't resist the markdowns!
---
Breweries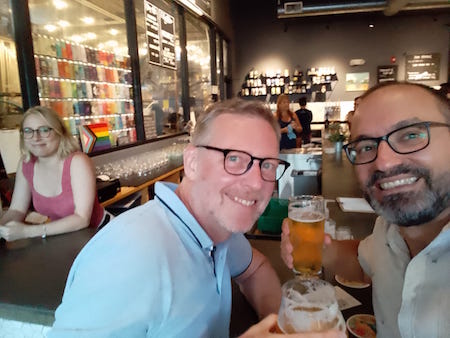 As always, we hit as many breweries as possible… and no, we didn't make it to Samuel Adams. Next time. One thing we learned right away is that most grocery stores don't sell alcohol. Some blue law remnant on the books, I guess. No shortage of taverns or pubs with beer though, & thank god for H-Mart in Cambridge that kept our hotel fridge stocked! Also, turns out we're more West Coast than New England IPA fans… those great aromas are lovely at first, but in general they fall flat at the end. We like IPAs that linger with more bitterness, although we loved trying them all. Oh, & generally speaking, we were the oldest clients at every place we went. What gives, Boston? Where does the 40 to 50 year-old crowd hang out??
Most fun: Castle Island @ South Boston
Best view: Night Shift @ Lovejoy Wharf
Friendliest staff: Winter Hill
Surliest staff: Trillium @ Fenway
Best patio: Aeronaut
Best food: Cambridge
Best trivia night: Remnant
Best people watching: Lamplighter
Juiciest IPA: Jack's Abby/Springdale
Tastiest local canned IPA: Cloud Candy
Tastiest canned IPA

ever

: Heady Topper
Best tavern: Brewer's Fork
Wouldn't let us in: Cheeky Monkey
One more surprise: no happy hour in Massachusetts! With such high prices, happy hour would have been welcome. But in order to curb accidents due to drunk driving, happy hour has been illegal since 1984. 1984. But the fact that Herb drove to Vermont to get some Heady Topper for us to try made up for no happy hour. What an impressive beer!!
---
Overall impressions? Impossible not to love Boston. Learned lots about the start of the American Revolution, had no idea that so much great art from around the world is housed there, loved the way greenery mixed in with modern buildings & all the coastal views, enjoyed the amazing food, & took advantage of some of the best public transportation we've seen in the US.
The biggest negative would have to be the weather during our trip… who could have known that our two weeks there would coincide with unseasonably high heat & humidity? We love walking through neighborhoods, & while we did quite a bit, I would have preferred to have done even more. Guess that will wait for next time. With easy & quick connections to where we live, I imagine that Boston will be our gateway to the US from now on. And so much more of New England awaits for us to explore!