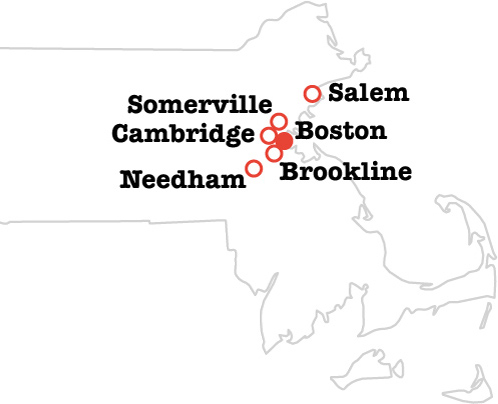 Is it still a road trip if you don't use a car? In this case, I'll say yes because Boston's fantastic public transportation made car rental 100% unnecessary. And honestly, I don't know how we could have seen more. This two-week trip was our first visit to New England, & what an introduction! We had a major mishap at the last minute, but the travel gods worked their magic & off we went. I've grouped our sightseeing below into neighborhoods for easy reference. We'll get on the road after a bumpy start…
Cancelled?!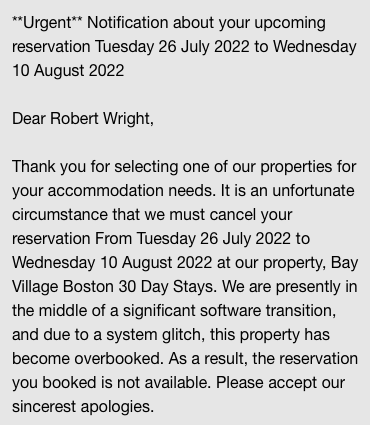 Still unemployed & with omicron on the horizon, I took a leap of faith during Black Friday & got a great deal on airfare. Surely next year's work would pay for this vacation? Except I didn't realize that Boston is one of the most expensive cities in the US. Silly me. After much searching, I found a rental apartment on Booking.com with a decent location, all the amenities we needed & wasn't outrageously priced. Too good to be true? Yep.
Four days before our departure the property cancelled our pre-paid reservation. If I'd done a little more reading, I would have known that this is par for the course for them. Seems like they accept bookings, take cash, use it for whatever purpose, cancel reservations at the last minute, then place their property back online at a jacked-up price. Because hey, it's summer in Boston & all other accommodation is taken. I'd read that even getting a refund was difficult. Trying not to panic, I worked hard to find another place. Of course it was more expensive, but Booking.com paid 25% & the original property actually refunded my entire payment. Miracle of miracles.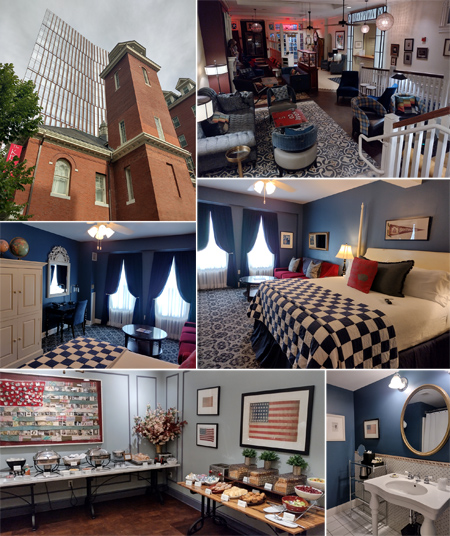 I'll chalk this up to experience, but it was either pay more for a hotel or lose the airfare & the vacation. With breakfast included for 16 days + other amenities, I'd say we got a good deal. The Kendall Hotel in Cambridge had very helpful staff, great rooms & a perfect location for us. Housed inside a former fire station, the decor could not have been more perfectly themed for this US adventure.
Let the sightseeing begin!
North End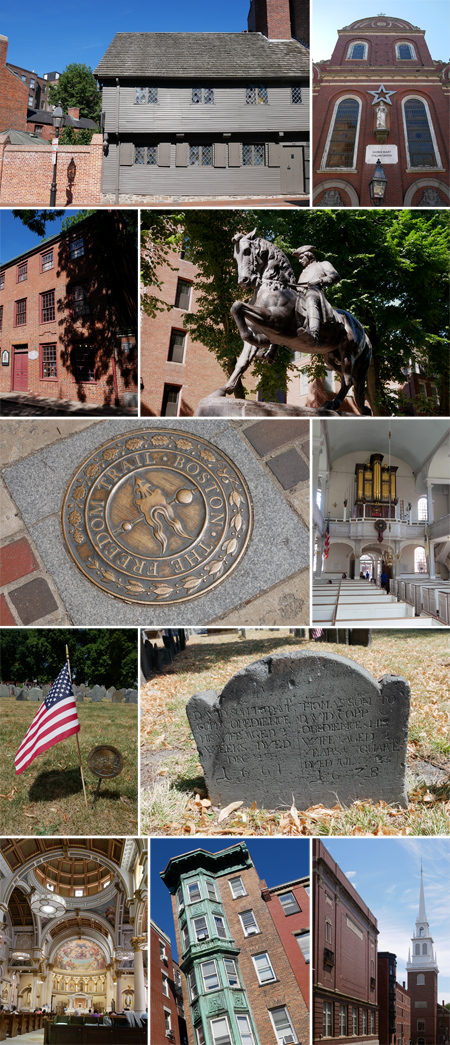 Home to some of the most historic buildings in town —Paul Revere's house & the Old South Church where beacons were lit to warn of British attack in 1775— the North End felt a bit too touristy for my taste. Hundreds of Little Italy restaurants sprawling into the streets didn't help either. We didn't follow the Freedom Trail from beginning to end in a single day but saw our first markers here.
Beacon Hill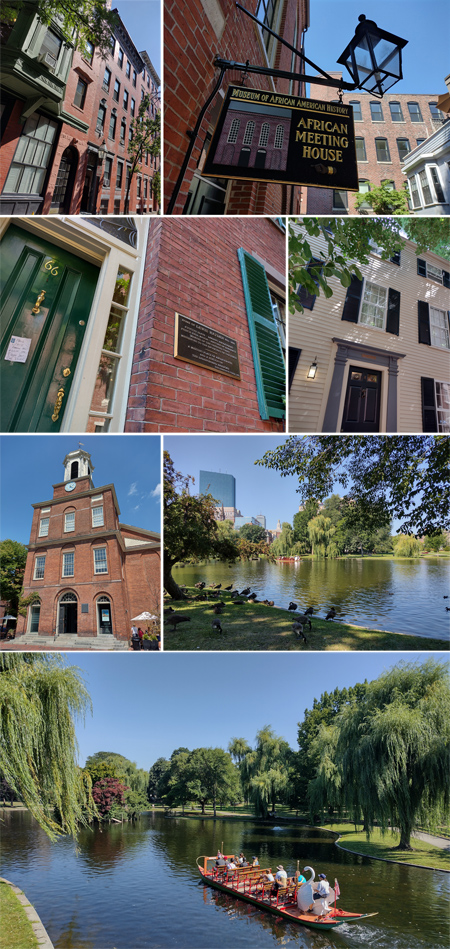 What's not to love? Beautiful brick architecture, abolitionist history, interesting shops & a gorgeous public garden… which made us wonder why Boston Common across Charles St seems rundown by comparison. We spent quite awhile wandering through the Massachusetts State House after the official tour ended & saw the original newspaper with the Declaration of Independence that was read from the Old State House. Amazing historical document up close & personal.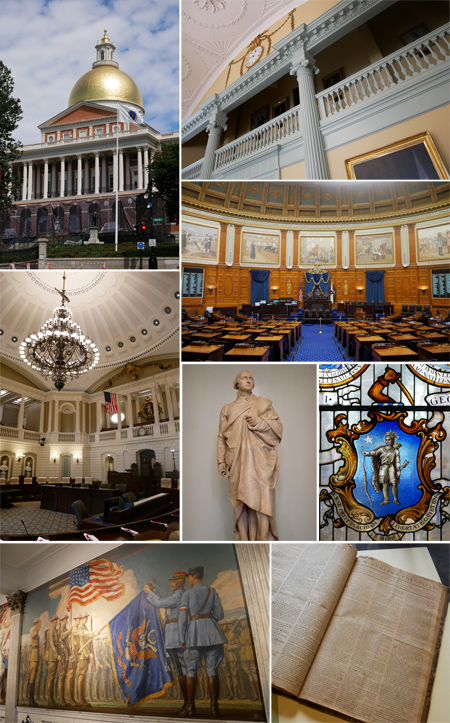 Downtown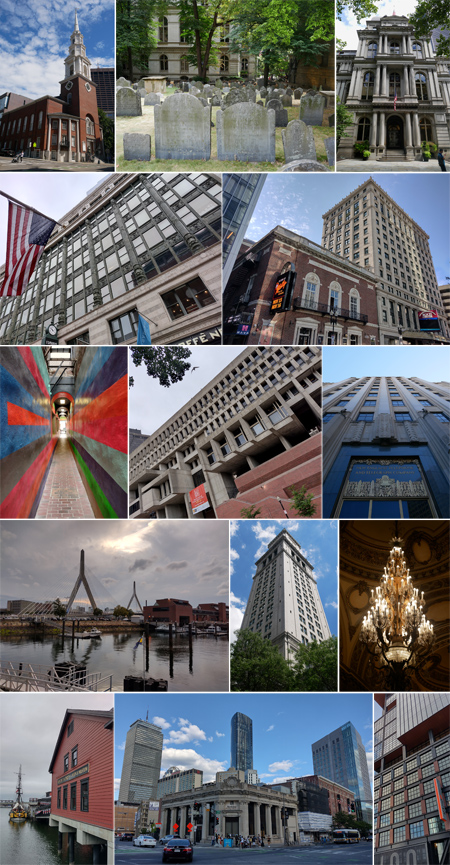 An odd mix of mass tourism —thanks to the Freedom Trail— office workers, skyscrapers, colonial buildings, graveyards, sports fans, the Tea Party ship replica, fancy theaters, shopping, water views, an old & new city hall… everything seemed crammed together in a street plan that doesn't make much sense. Overwhelming in spots, but fun to see the mix of old & new.
South End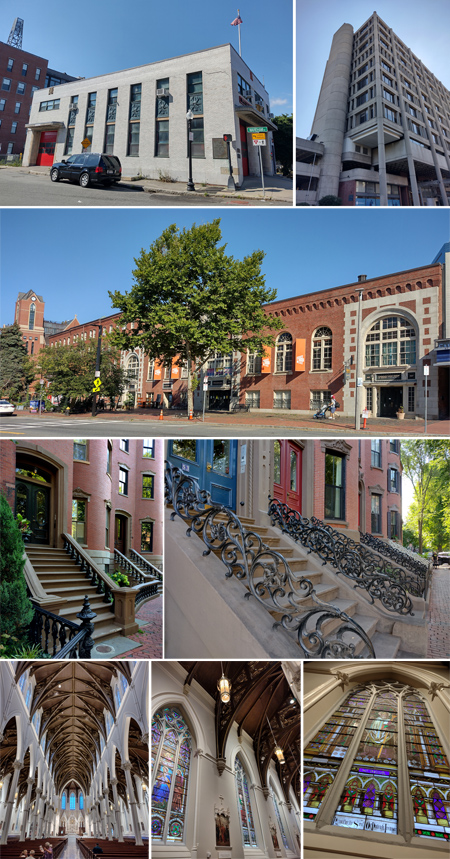 We tried to find the SoWa Open Market, but I think we were there too early… saw some large industrial buildings, the BU Medical campus & a very cool fire station nearby though. Two other standouts from our walk: Union Park Square houses with mini-manicured gardens & the Cathedral of the Holy Cross. Built from 1866 to 1875, the church became a focus for Irish-American immigrants… who have now been replaced by Hispanic immigrants! Love how urban development continues with different communities.
Back Bay
The geographic similarities of Boston & Cádiz are absolutely remarkable. Once connected to the mainland by an isthmus or "neck", so much of today's modern city is landfill used to create extra space… with this neighborhood as a great example. We didn't walk as much of the residential area as we would have liked, but Back Bay has some fantastic sights: beautiful mansions, Trinity Church, the Old South Church, the Mapparium at the Christian Science Monitor headquarters & one of our highlights, the Boston Public Library. Those John Singer Sargent murals!!
Fenway-Kenmore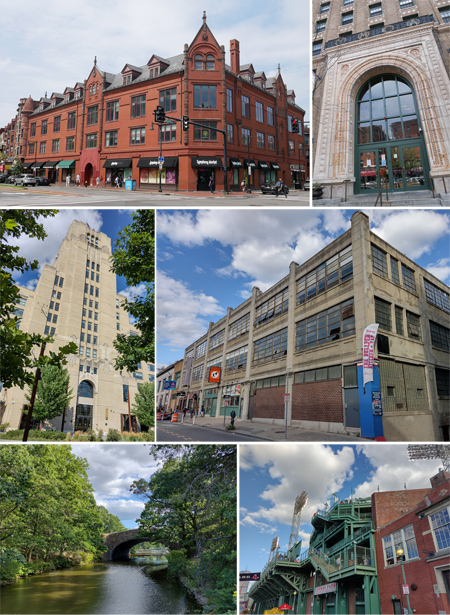 Love how the Green Line of the T shows off this neighborhood… full of more great architecture like the Landmark Center, stunning art collections like the MFA & Isabella Stewart Gardner museums + we got lucky & saw the start of a baseball game as we walked by Fenway Park. Lots more John Singer Sargent, beautiful recreations of entire rooms from colonial houses, a bit of Spanish art & beautiful spaces to enjoy it all.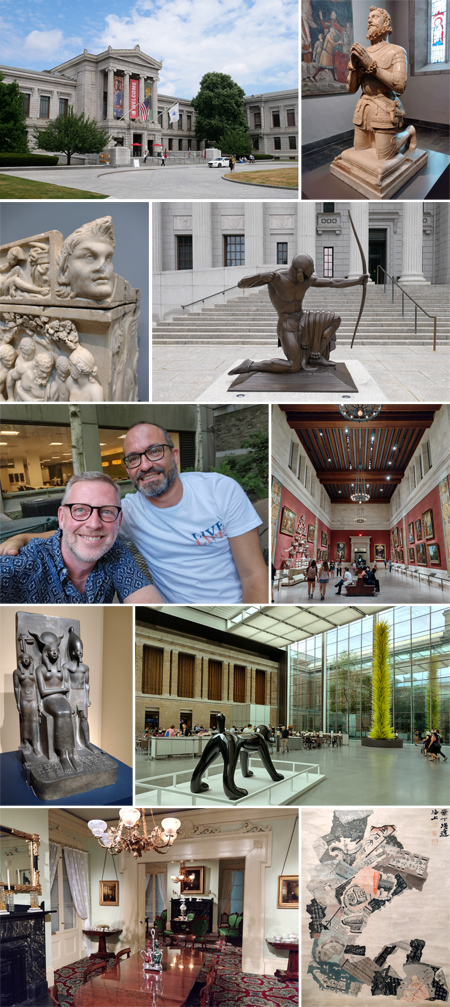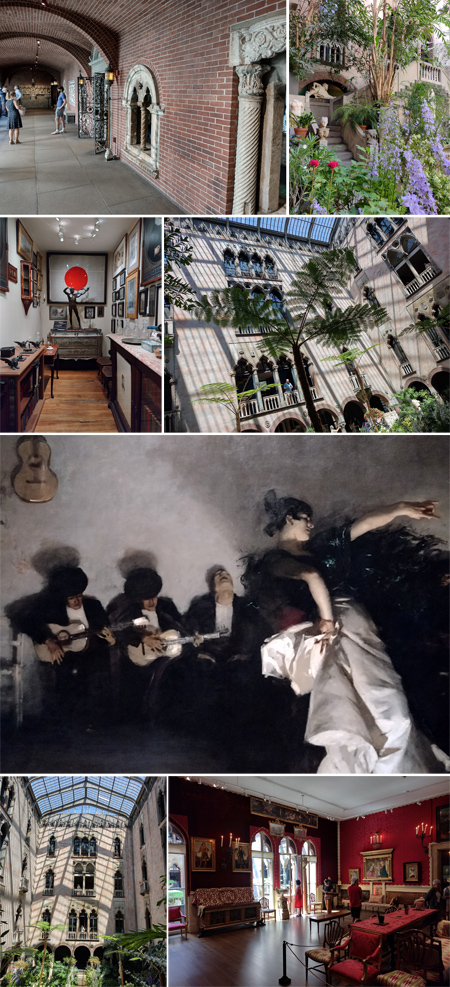 Dorchester
Two fantastic museums sit along the waterfront here, one ignored & the other a main tourist attraction. The Massachusetts Archive had an interesting set of exhibits that explained the colony's founding, its major role in the American Revolution, growth by trade & manufacturing, & issues with immigration. Probably the closest thing to state history museum that exists.
The original engraving by Paul Revere of the Boston Massacre + the 1629 charter for the colony granted by King Charles I were on display under low light. But for me the gem was what's considered the oldest stars-and-stripes version of the US flag, flown in Boston Harbor during the Revolutionary War… hung discreetly in a display case with no special signage. Go figure.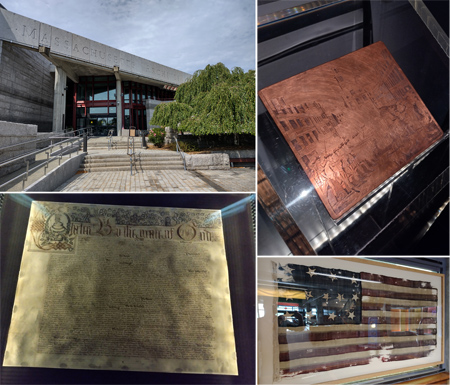 The JFK Presidential Library —our third of currently 14 in operation— was a knockout: wonderful videos, focus on his life & accomplishments instead of his assassination, & so many interests objects. I can't imagine any other person handling the Cuban Missile Crisis like Kennedy did.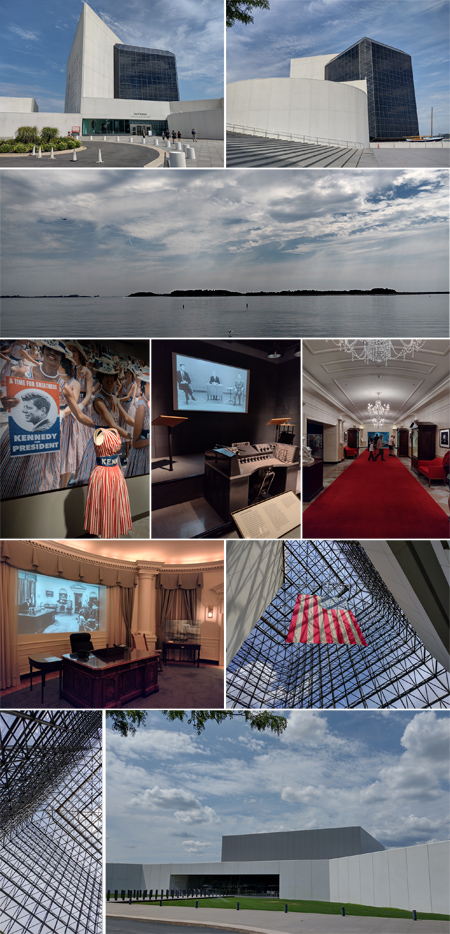 Charlestown

A day on & around the water! So thankful that our CharlieCard included a ferry ride to Charlestown… a cool & refreshing way to arrive to all the boats on display: the USS Constitution, the WW2 destroyer USS Cassin Young & a special treat temporarily in dock… the Coast Guard training vessel USCGC Eagle. Walking around the neighborhood was fun, although we soon sought refuge from the heat at a tavern with fantastic oysters. Walking up 294 steps to the top of the Bunker Hill Monument after lunch almost wiped us out. Whew. Tip: The USS Constitution Museum has a good video, but skip the rest unless you have kids.
---
But wait… there's more! That's definitely not all we saw in Massachusetts, but this would be much too long if all those other places were included here. Check out this next post that shows our trip to the nearby cities of Brookline, Needham, Cambridge, Somerville & Salem. See you there!