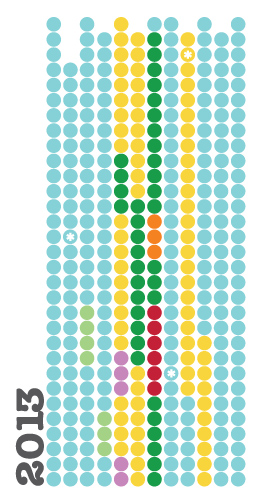 ● Where was I?

Argentina

,

Uruguay

,

France

,

Spain

,

Portugal

,

UK

, &

Morocco

.
…and the tradition continues. Welcome to the fourth edition of my year in review. I do this mainly for personal reasons, but you're welcome to revisit the past year with me. Oh, the white asterisks above were release dates for Endless Mile guides. Let's look back…
---
JAN – Began the year high on morphine after falling from a chair & fracturing my shoulder in FIVE places. Consequently learned that this isn't a good month for being seen at the public hospital in Buenos Aires, due to all the holidays. That CT scan was not pretty. Ouch: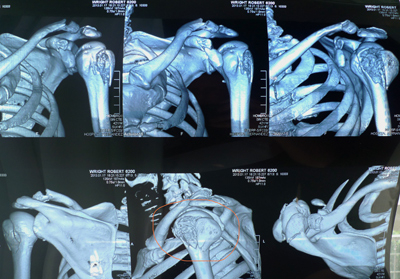 FEB – Finished a 33-page Art Nouveau guide for Buenos Aires & began physical therapy. Possibly no shoulder operation required mainly because everything had already set, for better or worse… all I needed to do was recover movement. Plans to move to Montevideo cancelled.
MAR – Tours with NYU students plus a film crew location shoot. Second visit to Montevideo with lots of walking. Also an adventure to the cemetery in Olivos with Julie-Anne! My spring work schedule had been pretty much confirmed at this point: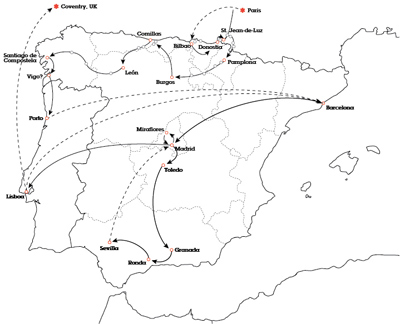 APR – Third trip to Montevideo with more great discoveries. Nerve conduction tests come out surprisingly normal & no need for surgery. Yippee! Began packing as much as possible because I'm moving to Esquel! Website & copy design finished for the Argentinian Journal of Applied Linguistics (AJAL).
MAY – Spent a couple of days in Paris with Kristen before beginning to update northern Spain info for the Rick Steves guidebook, traveled the entire Camino de Santiago by car plus some interesting side trips, took a few days off in Porto, & escorted the first Spain: My Way tour of the year for Rick Steves.
JUN – Met Darío in Madrid, jaunt to Miraflores then we were off to Lisboa… also did my second tour of the year.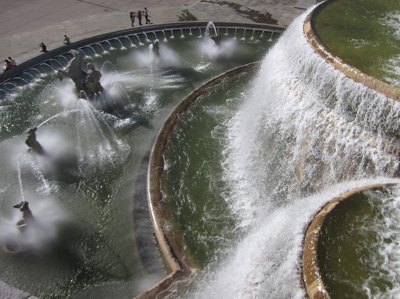 JUL – Briefly back to Lisboa, then to Coventry for Darío's successful PhD defense via Liverpool (a very pleasant surprise). Yea! Celebration trip to Marrakech then major work updating the Lisbon tile guide. Digital camera #7 purchased… a Lumix LF1 replaces the Canon S95 that literally fell apart.
AUG – Unpacking in Esquel, new Argie identity document & lots of snow.
SEP – After six years of posts, the Recoleta Cemetery blog can now rest in peace. Third & fourth tour of the year in Spain plus a fun case of pharyngitis & a few days in Cádiz. Finished a 10-post guide to Montevideo. Another tech purchase: the new Google Nexus tablet. Love, love, love it.
OCT – Back in Esquel, second edition of AJAL complete, new art & additional info for the Mosteiro dos Jerónimos guide, plus a complete redesign of the business webpage.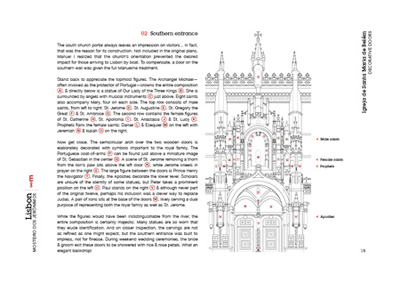 NOV – Quick visit to Buenos Aires before the summer heat wave begins and a four-year anniversary with Darío! Lots & lots of reading.
DEC – Digging into more computer work, trip planning & writing. Enjoying my first summer in Argentina without the oppressive heat & humidity of Buenos Aires. Seems like a good summer to be away!
---
What's coming in 2014?
Work & travel: I already have a general idea for Endless Mile releases next year. Plus I'll be working for Rick Steves again both for tours & hopefully guidebook research. I have a feeling that I'll be even busier next year. Add to that a trip to the US, Jordan & Israel. Hopefully spending some time in Lisbon too. Trips always seem to pop up. At least I'm SkyTeam Elite/Gold now & can enjoy a few perks.
Online: While I didn't quite catch up with Flickr, I'm almost there. Only about one month of 2012 left to sift through… oh, and the rest of 2013! But I'm happy with the progress. Without AfterLife & the Lisbon tumblr taking up time, I've been able to write more here. I enjoy it & hope to keep it up.
Health: I was worried that the shoulder accident would affect my work performance this year & was pleasantly surprised that I managed just fine. In fact, being active is probably why I've had such a speedy recovery. I have about 90% mobility back in my shoulder & that's about as good as it will ever get. No surgery, so no complaints. All I need to do is remember that I can use my left arm again… I'd trained myself to do everything with my right arm so now I have to un-learn that bit.
Big questions: Will we be moving again next year? Maybe. Another story too long to tell. Will I be able to invest in my Roth IRA? One can only hope. Better yet: how far will my money go in Argentina next year? Everyone wants to know the answer to that one!
I've been fortunate enough to meet some fantastic people this year & reconnect with quite a few old friends. I hope everyone has a fantastic beginning to 2014 & a wonderful year!